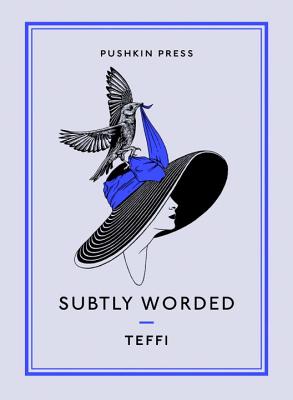 Subtly Worded (Pushkin Collection) (Paperback)
Pushkin Collection, 9781782270379, 240pp.
Publication Date: December 2, 2014
* Individual store prices may vary.
Description
A selection of the finest stories by this female Chekhov

Teffi's genius with the short form made her a literary star in pre-revolutionary Russia, beloved by Tsar Nicholas II and Vladimir Lenin alike. These stories, taken from the whole of her career, show the full range of her gifts. Extremely funny-a wry, scathing observer of society-she is also capable, as capable even as Chekhov, of miraculous subtlety and depth of character.

There are stories here from her own life (as a child, going to meet Tolstoy to plead for the life of War and Peace's Prince Bolkonsky, or, much later, her strange, charged meetings with the already-legendary Rasputin). There are stories of émigré society, its members held together by mutual repulsion. There are stories of people misunderstanding each other or misrepresenting themselves. And throughout there is a sly, sardonic wit and a deep, compelling intelligence.

Pushkin Collection editions feature a spare, elegant series style and superior, durable components. The Collection is typeset in Monotype Baskerville, litho-printed on Munken Premium White Paper and notch-bound by the independently owned printer TJ International in Padstow. The covers, with French flaps, are printed on Colorplan Pristine White Paper. Both paper and cover board are acid-free and Forest Stewardship Council (FSC) certified.
About the Author
Nadezhda Teffi was a phenomenally popular writer in pre-revolutionary Russia - a favourite of Tsar Nicholas II and Vladimir Lenin alike. She was born in 1872 into a prominent St Petersburg family and emigrated from Bolshevik Russia in 1919. She eventually settled in Paris, where she became an important figure in the émigré literary scene, and where she lived until her death in 1952. A master of the short form, in her lifetime Teffi published countless stories, plays and feuilletons. After her death, she was gradually forgotten, but the collapse of the Soviet Union brought about her rediscovery by Russian readers. Now, nearly a century after her emigration, she once again enjoys critical acclaim and a wide readership in her motherland.
Praise For Subtly Worded (Pushkin Collection)…
"In the years leading up to the Bolshevik Revolution in 1917, Nadezhda Alexandrovna Buchinskaya, who used the pen name Teffi, was one of the most popular writers in Russia. . . Teffi has no Western counterpart, although . . . she's sometimes compared to Colette or Dorothy Parker . . . a lot of people compare Teffi to Chekhov . . . she also resembles a sadder, more vulnerable David Sedaris. . . . The characters pop off the page with a flick of the pen." — The New York Times

"At the height of her success, Russian writer Teffi (a pseudonym for Nadezhda Alexandrovna Buchinskaya) could count such polar opposites as Lenin and Czar Nicholas II as fans of her stories and plays. . . . But when she died in 1952, it was obscurity, not posterity, that followed.  . . . Now, thanks to Pushkin Press and a team of skilled translators headed by Anne Marie Jackson, English-speaking readers can appreciate her considerable talents. . . . Each story in 'Subtly Worded' is exactly that. Witty, acerbic, playful and profound, Teffi's tales are here again, and if there is any justice, they are here to stay." -- The Minneaoplis Star Tribune

"Like Nabokov, Platonov, and many other great Russian prose writers, Teffi was a poet who turned to prose but continued to write with a poet's sensitivity to tone and rhythm. Like Chekhov, she fuses wit, tragedy, and a remarkable capacity for observation; there are few human weaknesses she did not relate to with compassion and understanding." — The New Yorker

"These short stories of Russian peasants, artists and lovers show few signs of their age and much that is timeless. . . Like the book's excellent introduction, which teases a reader to want to know more about this woman's life, these wide-ranging, brief works whet an appetite for more of her fiction." — Kirkus Reviews


"In new translations by Anne Marie Jackson, Robert Chandler and others, the stories gathered in this little volume radiate beauty and burst with the winking humor for which Teffi was always known. . . After decades of obscurity, 'a new generation of Russian readers began to discover and appreciate Teffi's special genius' in the 1990s, as Jackson explains in the introduction. Now English-speaking readers can do the same, thanks to this wonder-filled little paperback from Pushkin Press." — Blogcritics.org
"Pushkin Press has done it again: made me fall in love with a writer I've never heard of. . . [T]here are numerous times when Teffi notes linguistic mutations or barbarities; she pays close attention to linguistic use; she can write in more registers than you might think, and is capable of being heartbreaking as well as very funny. I wish she were still alive, and I could have met her. But then I realised she would have seen right through me. I can't recommend her strongly enough." — Nicholas Lezard, The Guardian
or
Not Currently Available for Direct Purchase