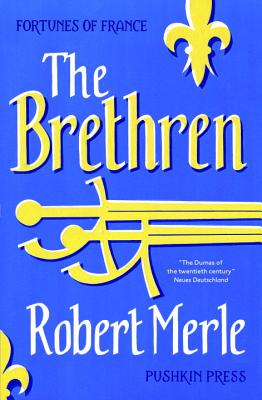 The Brethren (Paperback)
Fortunes of France: Volume 1
Pushkin Press, 9781782271239, 416pp.
Publication Date: March 3, 2015
Other Editions of This Title:
MP3 CD (6/7/2016)
* Individual store prices may vary.
Description
Consisting of 13 books written across 26 years, the adventure-filled epic Fortunes of France is one of France's best-loved historical fiction series. Never before published in English, book one, The Brethren, makes its debut in the US in the spring of 2015, followed in the fall by book two, City of Wisdom and Blood.

Two veteran soldiers retire to a castle in the wildly beautiful Périgord of sixteenth century France. But the country is descending into chaos, plagued by religious strife, famine, pestilence, bands of robbers... and, of course, the English.

In the course of their story we are introduced to a slew of vivid characters, including the fiery Isabelle, mistress of the castle, refusing to renounce her religious beliefs despite great pressure; the petty and meal-mouthed Francois, unlikely heir to the estate; the brave and loyal Jonas who lives in a cave and keeps a wolf as a pet; the swaggering soldier Cabusse; the outrageously superstitious Maligou, and Sarrazine, who once roamed as part of a wild gypsy band.

A sprawling, earthy tale of violence and lust, love and death, political intrigue and dazzling philosophical debate, The Brethren is the first step in an engrossing saga to rival Dumas, Flashmanand Game of Thrones.
About the Author
Robert Merle was born in French Algeria, before moving to mainland France in 1918. A lifelong anglophile, Merle was a professor of English Literature at various universities, translating works including Jonathan Swift's Gullivers Travels into French. After the outbreak of war in 1939 he served as an interpreter with the British Expeditionary Force, and was captured by the German army at Dunkirk, the experience of which served as the basis for his post-war debut Weekend at Zuydcoote. Initially French publishers were wary of this book, put off by its foul language and sexual content, but at the urging of authors including Jean-Paul Sartre and Raymond Queneau it was snapped up by Gaston Gallimard and went on to win the Prix Goncourt. His much-loved Fortunes of France series was published over four decades, from 1977 to 2003, the final volume appearing just a year before his death of a heart attack in 2004.
Praise For The Brethren: Fortunes of France: Volume 1…
"There is a philosophical depth to the novel. . . one of the strengths of Merle's novels [is] his ability to evoke the feeling and texture of everyday life as well as high politics. . . [The Brethren] has a credibly human solidity, and whets one's appetite for the next volume, "City of Wisdom and Blood," which will be published in the fall." — The Wall Street Journal
"One of the many delights vouchsafed by Robert Merle's
The Brethren
is the sense that the author is astonished that what he's writing about actually happened. . . If there is a pattern to the narration—a dependable vacillation between personal exploit and public machination—the chronicle is also seductively contorted, with adventures sowed into other adventures. . . Pierre, then, is the human demilitarized zone separating his mother and father. His voice can be self-congratulatory though also generous and gently philosophical, reminiscent at moments of Merle's colleague Sartre. . . Feudal life can hardly seem more vivid than when Merle leaves the religious war to describe, through a smart translation by T. Jefferson Kline, a soul-strengthening day of haymaking or the swagger of a barrel-chested wet nurse with 'milk for sale.' Merle the English teacher repeatedly bows to Shakespeare. . . [
The Brethren
] is wise and audacious, constantly nudging up against the extraordinary."
— The New York Times Book Review

"The compelling first in a series of French historical novels, deftly translated and published for the first time in English. Château Mespech is a fiefdom relentlessly imperiled by the weather, Gypsy bandits, royal and religious duplicity, and the plague . . . Merle peoples his tale with memorable characters: villains, maids, legionnaires and townsfolk . . . Merle's is a French epic, more genteel than Dickens' poor-child English tales and less doleful than Tolstoy's Russian sagas." -- Kirkus Reviews


"Swashbuckling historical fiction... For all its philosophical depth [
The Brethren
] is a hugely entertaining romp... The comparisons with Dumas seem both natural and deserved and the next 12 instalments [are] a thrilling prospect."
— Guardian
"A vivid novel by France's modern Dumas... [there is] plenty of evidence in the rich characterisation and vivid historical detail that a reader's long-term commitment will be amply rewarded."
— Sunday Times
"Cleverly depicts France's epic religious wars through the intimate prism of one family's experience. It's beautifully written too." 
— Metro.
"We're swept away by triumph, tragedy, action and adventure… It's a novel like this that makes reviewing one of the best jobs in the world."
— The Book Bag, Five Star Review
"Historical fiction at its very best… The second instalment cannot be published too soon."
— We Love This Book
"A Sprawling, earthy tale of peril, love, lust, death, dazzling philosophical debate and political intrigue… an engrossing saga."
— Gransnet
"A master of the historical novel."
— Guardian
"A spectacular evocation of sixteenth- and seventeenth-century France."
— Independent
Advance Praise from Europe:
"His readers appreciate his recipe for writing that is as political as it is entertaining."
— Deutschlandfunk
"Be warned: even just a few pages can lead to addiction."
— Neckar-Tauber Trend
"With much wit, irony and a knack for juicy details, [Merle] brings alive his country's history."
— Literatur-Report
"For fans of historical fiction, The Brethren is a delight to savour."
— Thüringer Allgemeine
"Thrilling! Robert Merle rides his novel at full tilt across a richly eventful period of history."
— Le Magazine Littéraire
"Robert Merle is one of the very few French writers who have attained both popular success and the admiration of critics."
— Le Figaro
"A wonderful, colourful, breathlessly narrated historical panorama."
— Zeitpunkt
"Breathes new life into the classic adventure story and great historical epic."
— Les Nouvelles Littéraires
"France's greatest popular novelist."
— Le Monde
"The Dumas of the twentieth century."
— Neues Deutschland 
or
Not Currently Available for Direct Purchase