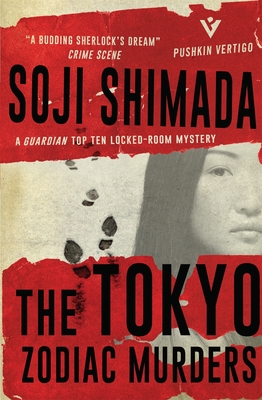 The Tokyo Zodiac Murders (Pushkin Vertigo #4)
Paperback

* Individual store prices may vary.
Description
One of The Guardian's "Top 10 Locked Room Mysteries"

An amateur detective races against the clock to solve a decades-old murder mystery in this "bloody and bizarre" crime novel with a twist hailed as "one of the most original"—an unmissable triumph of Japanese literature (Daily Mail).

Astrologer, fortune teller, and self-styled detective Kiyoshi Mitarai must solve a macabre murder mystery that has baffled Japan for 40 years—in just one week.
 
With the help of his freelance illustrator friend, Kiyoshi sets out to answer the questions that have haunted the country ever since: Who murdered the artist Umezawa, raped and killed his daughter, and then chopped up the bodies of six others to create Azoth, 'the perfect woman'?
 
With maps, charts, and other illustrations, this story of magic and illusion—pieced together like a great stage tragedy—challenges the reader to unravel the mystery before the final curtain falls.
 
This quintessential Japanese "logic mystery"—eerie, gory, and intriguing—combines the puzzle-solving of Golden Age Western detective fiction with elements of shocking horror and dark humor.
Praise For The Tokyo Zodiac Murders (Pushkin Vertigo #4)…
"A sprawling, multi-faceted epic... The solution to the mystery is deceptively simple, and yet I can honestly say I have never read one quite like it anywhere else. This book is an unmissable triumph."
--Publishers Weekly

"If you like your crime stories to be bloody and bizarre, then this one may be for you. The winner of several major awards... the solution is one of the most original that I've ever read."
--Daily Mail

"The great Soji Shimada virtually invented the "logic problem" sub-genre.:
--Guardian Top 10 Locked Room Mysteries (No. 2)

"Intricately constructed and entertainingly exotic."
--The Japan Times
Pushkin Vertigo, 9781782271383, 320pp.
Publication Date: September 15, 2015
About the Author
Born in 1948 in Hiroshima prefecture, Soji Shimada has been dubbed the 'God of Mystery' by international audiences. A novelist, essayist and short-story writer, he made his literary debut in 1981 with The Tokyo Zodiac Murders, which was shortlisted for the Edogawa Rampo Prize. Blending classical detective fiction with grisly violence and elements of the occult, he has gone on to publish several highly acclaimed series of mystery fiction. He is the author of 100+ works in total, including Murder in the Crooked House. In 2009 Shimada received the prestigious Japan Mystery Literature Award in recognition of his life's work.