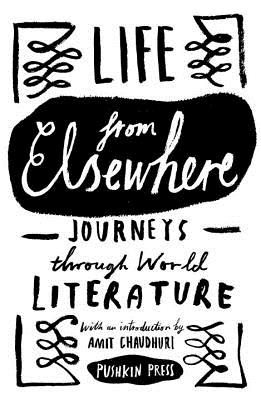 Life from Elsewhere (Paperback)
Journeys Through World Literature
Pushkin Press, 9781782271895, 160pp.
Publication Date: June 21, 2016
* Individual store prices may vary.
Description
Writers in Translation, established in 2005 and supported by Bloomberg and Arts Council England, champions the best literature from around the world. To mark the programme's tenth anniversary, ten leading writers from around the world, many of whom have been supported in their work by English PEN, explore the themes of movement, freedom and narrative. Introduced by Amit Chaudhuri, the collection includes contributions from:

Asmaa al Ghul - Palestine resident; originally from Bangladesh - Translated from the Arabic by Elisabeth Jaquette
Mahmoud Dowlatabadi - Iran - Translated from the Persian by Ahmad Karimi-Hakkak
Ayelet Gundar-Goshen - Israel - Translated from the Israeli by Sondra Silverston
Chan Koonchung - Born in Shanghai; raised in Hong Kong
Hanna Krall - Poland - Translated from the Polish by Philip Boehm
Andrey Kurkov - Russia - Translated from the Russian by Amanda Love Darragh
Andrés Neuman - Born in Argentina; moved to Spain - Translated from the Spanish by Nick Caistor
Alain Mabanckou - Born in Congo; raised in France; lives in America - Translated from the French by Helen Stevenson
Elif Shafak - Turkey
Samar Yazbek - Syria - Translated from the Arabic by Ruth Ahmedzai Kemp
About the Author
Asmaa Al-Ghoul (Gaza) is a short-story writer and journalist from Gaza, and advocate of media freedom. Mahmoud Dowlatabadi (Iran) is one of the Middle East's leading writers, and was imprisoned by the Shah's secret police in 1974. Alain Mabanckou (Congo) was shortlisted for the International Man Booker Prize 2015. Chan Koonchung (China) is a novelist and the founder of City Magazine. Ayelet Gundar-Goshen (Israel) is a novelist and journalist, and has worked for the Israeli civil rights movement. Hanna Krall (Poland), is an acclaimed and award-winning writer and journalist. Andrey Kurkov (Ukraine) is a writer of screenplays and author of critically acclaimed and popular novels. Andrés Neuman (Spain/Argentina) is an award-winning writer of novels, short stories, essays and poetry. Elif Shafak (Turkey) is an award-winning author who writes in both English and Turkish. Samar Yazbek (Syria) is a writer and journalist, and a prominent voice supporting human rights and women's rights.
or
Not Currently Available for Direct Purchase