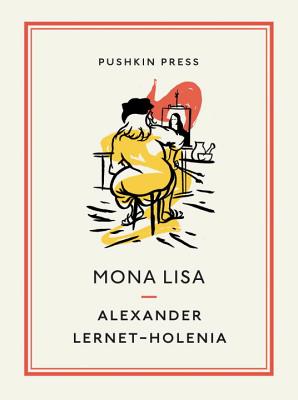 Mona Lisa (Pushkin Collection)
Paperback

* Individual store prices may vary.
Description
'Love does not need any comforting. It does not even need requiting. All it needs is itself.'

Florence, 1502. Marshal Louis de La Trémouille's small army has stopped off en route to Naples, to buy objects d'art for King Louis XII of France. Naturally, Leonardo da Vinci's workshop is on the shopping list; and during their visit to his house, the young nobleman de Bougainville chances upon the not-quite-finished Mona Lisa. He promptly, utterly and hopelessly falls in love with the woman in the painting, and is determined to find her - despite rumours that she has long ago died. A visit to an empty tomb, assault upon an Italian nobleman's mansion, duel and execution later, the secret of la Gioconda's smile is (possibly) revealed.

An entertaining story, told with style - about love, life, art, and the Quixotic things that a man will do to realise his dream.
Praise For Mona Lisa (Pushkin Collection)…
"Lernet-Holenia's language, translated from the German by Ignat Avsey, is quick and punchy, proving the perfect complement to this entertaining story... This slim novel explores the power of art to influence life and vice versa, as a young man catches a glimpse of an unfinished masterpiece by Leonardo da Vinci." — Shelf Awareness for Readers

"I thoroughly enjoyed this short book because of the characterization of Da Vinci and the little mystery surrounding the empty tomb of Mona Lisa." — The Bookbinder's Daughter

'Brilliant... excellently written and fearsomely gripping' The Times (of London)

'Very few novels published in recent years match itsdaunting panache... a terrific book, one to read and then urge everyone else tofollow suit... truly clever' EileenBattersby, Irish Times

'A fascinating snapshot of Vienna between the wars, paceyand entertaining' Guardian
Pushkin Collection, 9781782271901, 96pp.
Publication Date: June 14, 2016
About the Author
Alexander Lernet-Holenia (1897-1976) was a prolific and popular Austrian screenwriter, wrote several novels (including the acclaimed noir thriller I Was Jack Mortimer, published by Pushkin Press), was a multi-award winning lyrical poet admired by Rilke and Hofmannsthal, and earned Stefan Zweig's praise as the 'most noble of our dramatic poets'. Though greatly admired as a writer, his delight in provocation frequently made him unpopular with the authorities - be it the National Socialist Ministry of Propaganda during the war, or the tax office and the army after it. He nevertheless collected all the most important national literary awards, including the Great Austrian State Prize, and was elected the President of Austrian PEN in 1969.

Translated from the German by Ignat Avsey. Ignat Avsey (1938-2013) was a well-known translator from Russian and German, most admired for his reinvigorating translations of Dostoevsky's The Karamazov Brothers and The Idiot, and for the first ever English translation of Lernet-Holenia's thriller I Was Jack Mortimer. Mona Lisa was his final translation.
or
Not Currently Available for Direct Purchase