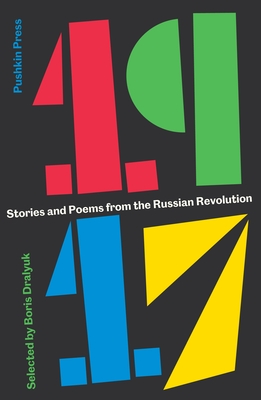 1917 (Paperback)
Stories and Poems from the Russian Revolution
Pushkin Press, 9781782272144, 236pp.
Publication Date: December 13, 2016
* Individual store prices may vary.
Description
1917: Stories and Poems from the Russian Revolution is a collection of literary responses to one of the most cataclysmic events in modern world history, which exposes the immense conflictedness and doubt, conviction and hope, pessimism and optimism which political events provoked among contemporary writers - sometimes at the same time, even in the same person. This dazzling panorama of thought, language and form includes work by authors who are already well known to the English-speaking world (Bulgakov, Pasternak, Akhmatova, Mayakovsky), as well as others, whose work we have the pleasure of encountering here for the very first time in English. 


Edited by Boris Dralyuk, the acclaimed translator of Isaac Babel's Red Cavalry (also published by Pushkin Press), 1917 includes works by some of the best Russian writers - some already famous in the English-speaking world, some published here for the very first time. It is an anthology for everyone: those who are coming to Russian literature for the first time, those who are already experienced students of it, and those who simply want to know how it felt to live through this extreme period in history.

POETRY:

   • Marina Tsvetaeva, 'You stepped from a stately cathedral ', 'Night. - Northeaster. - Roar of soldiers. - Roar of waves.'
   • Zinaida Gippius, 'Now', 'What have we done to it?', '14 December 1917'
   • Osip Mandelstam, 'In public and behind closed doors'
   • Osip Mandelstam, 'Let's praise, O brothers, liberty's dim light'
   • Anna Akhmatova, 'When the nation, suicidal'
   • Boris Pasternak, 'Spring Rain'
   • Mikhail Kuzmin, 'Russian Revolution'
   • Sergey Esenin, 'Wake me tomorrow at break of day'
   • Mikhail Gerasimov, 'I forged my iron flowers'
   • Vladimir Kirillov, 'We'
   • Aleksey Kraysky, 'Decrees'
   • Andrey Bely, 'Russia'
   • Alexander Blok, 'The Twelve'
   • Titsian Tabidze, 'Petersburg'
   • Pavlo Tychyna, 'Golden Humming'
   • Vladimir Mayakovsky, 'Revolution: A Poem-Chronicle', 'To Russia', 'Our March'
PROSE:

   • Alexander Kuprin, 'Sashka and Yashka'
   • Valentin Kataev, 'The Drum'
   • Aleksandr Serafimovich, 'How He Died'
   • Dovid Bergelson, 'Pictures of the Revolution'
   • Teffi, 'A Few Words About Lenin', 'The Guillotine'
   • Vasily Rozanov, from 'Apocalypse of Our Time'
   • Aleksey Remizov, 'The Lay of the Ruin of Rus''
   • Yefim Zozulya, 'The Dictator: A Story of Ak and Humanity'
   • Yevgeny Zamyatin, 'The Dragon'
   • Aleksandr Grin, 'Uprising'
   • Mikhail Prishvin, 'Blue Banner'
   • Mikhail Zoshchenko, 'A Wonderful Audacity'
   • Mikhail Bulgakov, 'Future Prospects'
About the Author
Boris Dralyuk, the Editor of 1917, is an award-winning translator of several volumes of poetry and prose from Russian and Polish, and co-editor of the Penguin Book of Russian Poetry. His critically acclaimed translation of Isaac Babel's Red Cavalry, and his new translation of Babel's Odessa Stories, are also published by Pushkin Press.

Includes works from Marina Tsvetaeva, Boris Pasternak, Mikhail Kuzmin, Andrey Bely, Alexander Kuprin, Teffi, Aleksey Remizov, Mikhail Bulgakov, and many more.
Praise For 1917: Stories and Poems from the Russian Revolution…
"Neatly chosen. . . well balanced between the October revolution's supporters and those appalled by it." — Andrew Stuttaford, The Wall Street Journal

"A captivating collection of poetry and prose from the revolutionary year." — China Miéville in October: The Story of the Russian Revolution

1917 "showcases the brutality and uncertainty that reigned as an old regime was dismantled and a new order established. So strong are the voices collected here that their words have the power to shock and stir a century on... Many of the writers here would go on to face persecution, ostracism or worse. This riveting collection catches them on the cusp of change, on the brink of darkness, when they were free to so brilliantly catalog the turbulence around them." — Minneapolis Star Tribune

"Dralyuk has assembled a high-pressure book of crisis writings by authors caught strutting as actors on the world stage." — Times Literary Supplement

"One of the real gems among the centenary books…Boris Dralyuk assembles a potent blend of novelty, utopianism and eschatology." — Spectator

"[A] broad and erudite collection." — Financial Times

"The book at hand, 1917, allows us to examine the poetry and fiction of that tumultuous year when the Bolshevik Revolution took place... The stories run a gamut from humorous to playful to satirical to stark and painful. Russian literature is one of the great bounties of the world." — American Book Review

"A brilliant new anthology." — Russia Beyond the Headlines

"This is great writing." — Jewish Renaissance

"A brilliant new anthology." — Phoebe Taplin, Russia Beyond the Headlines

"Expertly collected by Boris Dralyuk…"1917" was an entirely absorbing, moving and exceptional read." — Kaggsy's Bookish Ramblings





or
Not Currently Available for Direct Purchase