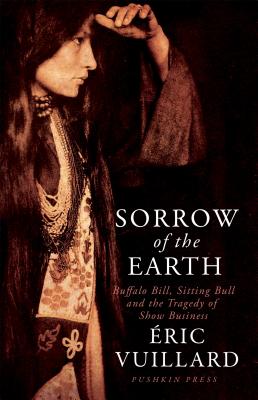 Sorrow of the Earth (Hardcover)
Buffalo Bill, Sitting Bull and the Tragedy of Show Business
Pushkin Press, 9781782272212, 192pp.
Publication Date: October 31, 2017
* Individual store prices may vary.
Description
Fascinating, brilliant and angry: the tale of Buffalo Bill's Wild West Show and the tragic fate of its Native American participants.

Buffalo Bill was the prince of show business. His spectacular Wild West shows were performed to packed houses across the world, holding audiences spellbound with their grand re-enactments of tales from the American frontier. For Bill gave the crowds something they'd never seen before: real-life Indians.

This astonishing work of historical re-imagining tells the story of the Native Americans swallowed up by Buffalo Bill's great entertainment machine. Of chief Sitting Bull, paraded in theatres to boos and catcalls for fifty dollars a week. Of a baby Lakota girl, found under her mother's frozen body, adopted and displayed on the stage. Of the last few survivors of Wounded Knee, hired to act out the horrific massacre of their tribe as entertainment. And of Buffalo Bill Cody himself, hamming it to the last, even as it consumed him.

Told with beauty, compassion and anger, Sorrow of the Earth shows us tragedy turned into a circus act, history into sham, truth into a spectacle more powerful than reality itself. Could any of us turn away?
About the Author
Born in Lyon, France, in 1968, Éric Vuillard is a French author and film director. His books include Conquistadors (winner of the Ignatius J. Reilly prize 2010), and La Bataille de l'occident and Congo, for both of which he was awarded the 2012 Franz-Hessel prize and the 2013 Valery-Larbaud prize. Sorrow of the Earth is the first of his titles to be translated into English.
Praise For Sorrow of the Earth: Buffalo Bill, Sitting Bull and the Tragedy of Show Business…
"Eric Vuillard uses musing prose to try to get inside the heads of Cody and of the Native Americans who performed in his shows, reenacting false versions of their experiences and creating an alternative history in the process. . . [Vuillard uses a] poetic style that conveys how the show shaped ideas about the West long after the frontier was gone." — Foreword Reviews

"A swift and engrossing postmodern interrogation of the brutal cost of manufacturing myth... an attempt to see a fraction of the story of native North America more honestly than that story has been seen in decades and centuries past." -- New Statesman

"Perhaps the shortest and most intense book on the Wild West ever published." -- Times Literary Supplement
or
Not Currently Available for Direct Purchase