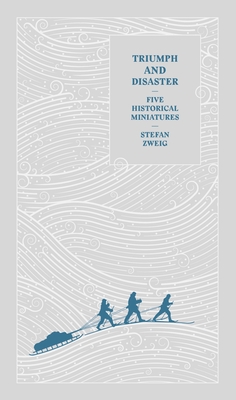 Triumph and Disaster (Hardcover)
Five Historical Miniatures
Pushkin Press, 9781782272748, 160pp.
Publication Date: November 14, 2017
* Individual store prices may vary.
Description
One of two beautifully designed hardback gift editions of Stefan Zweig's breathlessly dramatic historical sketches, out in time for Christmas.

A single Yes, a single No, a Too Soon or a Too Late makes that hour irrevocable for hundreds of generations while deciding the life of a single man or woman, of a nation, even the destiny of all humanity.

Five vivid dramatizations of some of the most pivotal episodes in human history, from the Fall of Constantinople to Scott's doomed attempt to reach the South Pole, bringing the past to life in brilliant technicolor.

Included in this collection:
"The Field of Waterloo": A fascinating little known story of Napoleon's defeat.
"The Race to Reach the South Pole": The failed expedition of the English to discover the South Pole first.
"The Conquest of Byzantium": Sultan Mahomet's defeat of Byzantium through a neglected door.
"The Sealed Train": Lenin's triumphant return from exile.
"Wilson's Failure": The Treaty of Versailles is signed.
About the Author
Stefan Zweig was born in 1881 in Vienna, into a wealthy Austrian-Jewish family. He studied in Berlin and Vienna and was first known as a poet and translator, then as a biographer. Between the wars, Zweig was an international bestseller with a string of hugely popular novellas including Letter from an Unknown Woman, Amok and Fear. In 1934, with the rise of Nazism, he left Austria, and lived in London, Bath and New York--a period during which he produced his most celebrated works: his only novel, Beware of Pity, and his memoir, The World of Yesterday. He eventually settled in Brazil, where in 1942 he and his wife were found dead in an apparent double suicide. Much of his work is available from Pushkin Press.
Praise For Triumph and Disaster: Five Historical Miniatures…
"Zweig drops into periods of history expertly. . . a series of short thrill-rides, where even if the reader knows why something occurred, it's still a treat to see how Zweig raises the tension as he races to a well-known conclusion. . . Triumph and Disaster is stellar historical writing. Even as it zips by, it fully embraces this central thesis: sometimes the greatest change comes from the most unlikely places." --Noah Cruickshank, the Field Museum, in Shelf Awareness

"Gems of literary perfection. I felt I had never read such lucid, liquid prose." -- Simon Winchester, Telegraph

"The perfect stocking-filler for the Europhile in your life." -- Philosophy Football