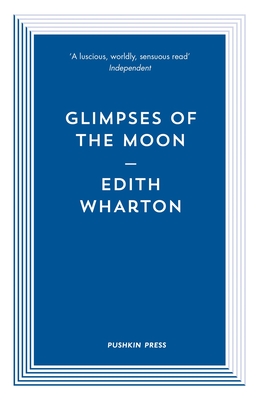 Glimpses of the Moon (Pushkin Blues) (Paperback)
Pushkin Press, 9781782274469, 336pp.
Publication Date: December 11, 2018
Other Editions of This Title:
Digital Audiobook (12/31/2005)
Paperback (1/1/2011)
Paperback (11/6/2011)
Paperback (7/17/2013)
Paperback (3/30/2014)
Paperback (10/5/2018)
Paperback (10/3/1996)
Paperback (5/1/2018)
Paperback (2/25/2016)
Paperback (7/14/2018)
Paperback (4/6/2014)
Paperback (5/22/2015)
Paperback (7/30/2018)
Paperback (6/28/2014)
Paperback (5/13/2015)
Paperback (5/17/2015)
Paperback (4/22/2014)
Paperback (9/11/2018)
* Individual store prices may vary.
Description
Nick Lansing and Susy Branch are young, attractive, but impoverished New Yorkers. They are in love and decide to marry, but realise their chances of happiness are slim without the wealth and society that their more privileged friends take for granted. Nick and Susy agree to separate when either encounters a more eligible proposition. However, as they honeymoon in friends' lavish houses, from a villa on Lake Como to a Venetian palace, jealous passions and troubled consciences cause the idyll to crumble. Edith Wharton has perceptively described the choices faced by Nick and Susy; the same dilemma still facing those seduced by the pleasures of society.

Pushkin Collection editions feature a spare, elegant series style and superior, durable components. The Collection is typeset in Monotype Baskerville, litho-printed on Munken Premium White Paper and notch-bound by the independently owned printer TJ International in Padstow. The covers, with French flaps, are printed on Colorplan Pristine White Paper. Both paper and cover board are acid-free and Forest Stewardship Council (FSC) certified.
About the Author
Edith Wharton was born in 1862 in New York, into a rich and socially prominent family. She began to write at an early age, although it was a habit viewed by her family as unsuitable for a woman of her social class. In 1885 she married Edward "Teddy" Wharton, a Boston banker. They lived a privileged life, but Wharton gradually grew dissatisfied with the roles of wife and society matron. The Whartons moved to Paris in 1907 and divorced in 1913. Edith continued to live in France, her beloved adoptive home, until her death in 1937.
Praise For Glimpses of the Moon (Pushkin Blues)…
"Wharton's unjustly neglected novel… a luscious, worldly, sensuous read, surely the equal of its most obvious offspring - Tender is the Night." - Boyd Tonkin, Independent


"This dark, beautifully-written and perceptive novel still feels fresh today." — The Lady