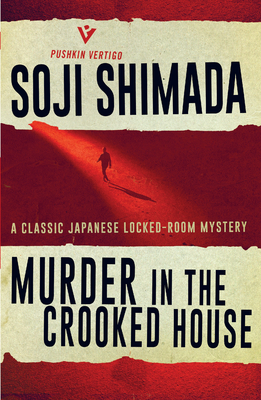 Murder in the Crooked House (Pushkin Vertigo #24)
Paperback

* Individual store prices may vary.
Description
A fiendish LOCKED ROOM MYSTERY from the Japanese master of the genre.

Never before available in English.

By the author of the acclaimed Tokyo Zodiac Murders.

The Crooked House sits on a snowbound cliff overlooking icy seas at the remote northern tip of Japan. A curious place for the millionaire Kozaburo Hamamoto to build a house, but even more curious is the house itself - a disorienting maze of sloping floors and strangely situated staircases, full of bloodcurdling masks and uncanny, lifesize dolls. When a man is found dead in one of the mansion's rooms, murdered in seemingly impossible circumstances, the police are called. But they are unable to solve the puzzle, and powerless to protect the party of house guests as more bizarre deaths follow.

Enter Kiyoshi Mitarai, the renowned sleuth, famous for unmasking the culprit behind the notorious Umezawa family massacre. Surely if anyone can crack these cryptic murders he will. But you have all the clues too - can you solve the mystery of the murders in The Crooked House first?
Praise For Murder in the Crooked House (Pushkin Vertigo #24)…
"Shimada's brilliant sequel to The Tokyo Zodiac Murders will thrill fans of golden age puzzle mysteries… The tension rises as one impossibility follows another before an effective and dramatic reveal. Shimada combines fantastic crimes with a logical and fair solution likely to stump even the most astute readers." — Publishers Weekly, starred review
 
"A delightfully intricate murder puzzle with retro charm, bound to tantalize readers." — Kirkus

"One of those locked-room head-bangers that invite — 'taunt' is more like it — the reader to decipher the clues and solve a murder along with an all-seeing detective." — Marilyn Stasio, New York Times Book Review

"Reminiscent of Agatha Christie, [Murder in the Crooked House] is a strange brew—one with a taste that certain adventurous readers may be well pleased to savor." — The Wall Street Journal

"Famed detective Kiyoshi Mitarai investigates a murder that transpired in impossible circumstances, and the mind-bending puzzle reveals a trail of horror that is both satisfying and entertaining... It's a clever and engaging mystery whose clues are revealed at a satisfying pace. The novel is translated with clarity and humor." — Foreword Reviews

"A superb Japanese locked room mystery . . . Hugely entertaining... a brilliant and satisfying conclusion." — Sunday Times (A Crime Book of the Month Selection and one of 100 Best Summer Reads)

"This ingenious locked-room mystery is our crime novel of the month." — Times 

"An ingeniously worked out locked room mystery." — John Teel, Marshall University, PCA Mystery & Detective Fiction Reading List

"Amusingly eccentric. . . an awful lot of fun. . . 4/4 stars." — New Books Magazine

"An inventive, page-turning comic-thriller… not only intellectually rewarding but also a hell of a lot of fun." — The Japan Times

Praise for The Tokyo Zodiac Murders:

"The great Soji Shimada virtually invented the 'logic problem' sub-genre." - Guardian, Top 10 Locked Room Mysteries (No. 2)

"Ignites the mind" -- Huffington Post

"If you like your crime stories to be bloody and bizarre, then this may be one for you... the solution is one of the most original that I've ever read" -- Anthony Horowitz
Pushkin Vertigo, 9781782274568, 320pp.
Publication Date: June 25, 2019
About the Author
Born in 1948 in Hiroshima prefecture, Soji Shimada has been dubbed the 'God of Mystery' by international audiences. A novelist, essayist and short-story writer, he made his literary debut in 1981 with The Tokyo Zodiac Murders, which was shortlisted for the Edogawa Rampo Prize. Blending classical detective fiction with grisly violence and elements of the occult, he has gone on to publish several highly acclaimed series of mystery fiction. He is the author of 100+ works in total. In 2009 Shimada received the prestigious Japan Mystery Literature Award in recognition of his life's work.