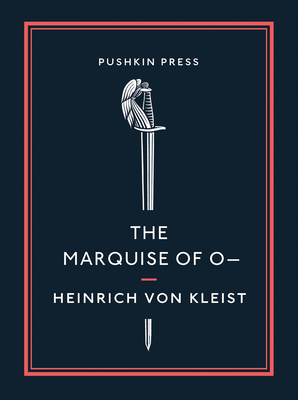 The Marquise of O– (Pushkin Collection) (Paperback)
Pushkin Collection, 9781782275299, 128pp.
Publication Date: January 7, 2020
* Individual store prices may vary.
Description
A vivid new translation of a timeless classic: Kleist's tense, ambiguous novella about an unexpected pregnancy

In a Northern Italian town during the Napoleonic Wars, Julietta, a young widow and mother of impeccable reputation, finds herself unexpectedly pregnant. This follows an attack on the town's citadel, in which several Russian soldiers tried to assault her before she was rescued by Count F-, at which point she fell unconscious. Thrown out of her father's house, Julietta publishes an announcement in the local newspaper stating that she is pregnant and would like the father of her child to make himself known so that she can marry him.

What follows is an ambiguously comic drama of sexuality and family respectability. One of Kleist's best-loved works, The Marquise of O- is an ingenious and timeless story of the mystery of human desire, and Nicholas Jacobs's new translation captures the full richness of its irony.
About the Author
Heinrich von Kleist was born in 1777 into a Prussian military family in Frankfurt/Oder. He entered the army at a young age, serving in a Guard's Regiment under the Duke of Brunswick. He later studied law and philosophy in his hometown before doing clerical work for the Ministry of Finance in Berlin. Kleist wrote poetry, philosophical essays, plays, short stories and novellas, most famously Michael Kohlhaas and The Marquise of O-. In 1811 he shot the terminally ill Henriette Vogel and then himself.
Praise For The Marquise of O– (Pushkin Collection)…
"Kleist's narrative language is completely unique." - Thomas Mann

"One of the most radical writers who ever lived." - Times Literary Supplement

"The Marquise of O— moves breathlessly up and down. It is a masterpiece I continue to be astonished by." - Rainer Maria Rilke
 
"Kafka loved Kleist. He would read The Marquise of O— five or six times in succession." - Dora Diamant, Kafka's fiancée