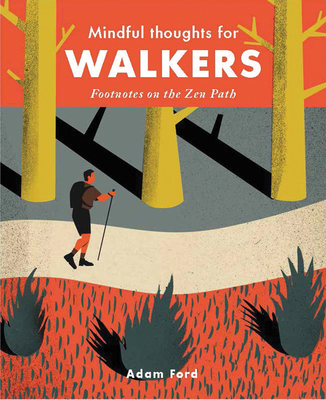 Mindful Thoughts for Walkers (Hardcover)
Footnotes on the zen path
Leaping Hare Press, 9781782404842, 160pp.
Publication Date: September 15, 2017
* Individual store prices may vary.
Description
Mindfulness is so much more than a set of routine timed exercises; it's the transformative practice of conscious living we can nurture by being mindful of the moment.  Mindful Thoughts for Walkers explores through a series of succint meditations, how walking is an opportunity to deepen our levels of physical, and spiritual awareness.

Adam Ford is an enlightening guide to how mindfulness and walking can help us face the existential questions of 'Who am I?', 'Where have I come from?', What am I doing here?', and 'Where am I going?'

From a gentle daily stroll to a brisk hike across the mountaintops, this is a powerful reading companion for rural and urban walker alike.
About the Author
Adam Ford is an ordained Anglican priest, now retired. He has an MA in Indian religions and regularly lectures on Buddhism and Hinduism. He is the author of The Art of Mindful Walking (2011), Seeking Silence in a Noisy World (2011), Mindfulness & the Art of Urban Living (2013), and Galileo & The Art of Ageing Mindfully (2015).
Praise For Mindful Thoughts for Walkers: Footnotes on the zen path…
"Most walkers know it's the perfect opportunity to clear the mind, and this little book takes the idea one step further. The author, a retired ordained priest and Buddhism specialist, offers mindful guidance, whether on a daily stroll in the city or a challenging hike in the country."
- Healthy Food Guide