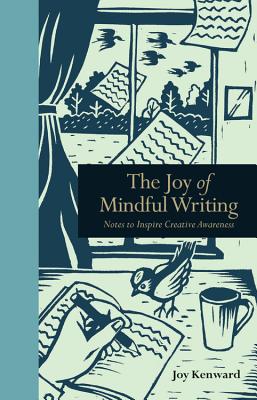 The Joy of Mindful Writing (Hardcover)
Notes to inspire creative awareness (Mindfulness)
Leaping Hare Press, 9781782405047, 144pp.
Publication Date: October 15, 2017
* Individual store prices may vary.
Description
Embrace the process of writing and the rich potential of conscious creativity and mindfulness with this enlightening insight into mindful writing. Exploring how writing mindfully can create deeper connections with your words, your characters, and yourself, this carefully crafted manual invites you to embrace the writing process as much as the completed work—plotting out sparkling stories with Zen-like awareness. Through meditative exercises, engaging anecdotes, and astute notes on perception, imagination, and focus, Joy Kenward helps you to flow, flourish and lose yourself in writing. Containing 20 mindful writing exercises, this unique guide explores how conscious writing creates mindful awareness, offering a fresh angle on shifting writer's block. 
About the Author
Joy Kenward is a creative writing tutor, novelist, and writer. She runs courses and workshops on the art of creative writing including meditative practice. Joy explores Buddhist meditation every day and has a specific interest in promoting conscious writing. She lives in England with her husband, and is in the process of writing her fourth novel.
Praise For The Joy of Mindful Writing: Notes to inspire creative awareness (Mindfulness)…
"We all know that, no matter how much we love it, writing takes effort. We've all come up against days when the words won't work, the plot is stymied and our focus is shot – or worse, the dreaded writers' block. The Joy of Mindful Writing, new from Leaping Hare Press, is a guide to conscious creativity and mindful writing designed to tackle these problems and help connect you more deeply to your work."
- Mslexia
"Whether you're in full flow or not, Joy's ideas, beautifully and simply expressed, provide a fascinating magic designed to energise, uplift and enhance creative writing skills."
- Cygnus Review
"The book is for anyone who wants to start a writing journey or who is looking for new ways of developing their writing, with writing exercises combined with meditative techniques."
- Psychologies
"Through meditative exercises, and notes on perception, imagination and focus, Joy guides you to a place where you can connect with the words you put down on paper in a meaningful way, ultimately tuning in to yourself more easily."
- Project Calm
"This book steers you onto the path to mindfulness and the route to believing that you really can do whatever it is you want to do - writing or otherwise!"
- Craft and Design Online
"The perfect companion for your writerly lives wherever and however you write."
- Literature Works