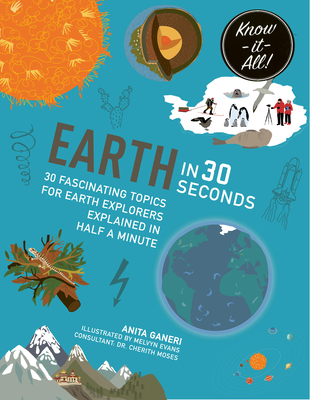 Earth in 30 Seconds (Paperback)
30 fascinating topics for earth explorers explained in half a minute (Know It All)
Ivy Kids, 9781782406587, 96pp.
Publication Date: February 19, 2019
* Individual store prices may vary.
Description
30 amazing topics for Earth explorers explained in half a minute.
In this exciting title for young Earthlings, every inch of our planet is explored and explained, from the air in the atmosphere to the molten magma beneath our feet. 30 key topics from deserts to oceans are covered, each presented in neat 30-second soundbites and supported by 3-second flash summaries and cool, colorful artwork.
The attention-grabbing format is engaging and immediate, giving a truly global understanding to readers aged from 8 up. Six themed sections cover the Earth in Space, the Earth's Structure, Weather and Climate, Watery World, Amazing Ecosystems and the Future of the Earth.
About the Author
Anita Ganeri has written many books, including the award-winning Scholastic series Horrible Geography. She lives with her family in West Yorkshire, England. Anita is a Fellow of the Royal Geographical Society, and honorary Fellow of the Royal Scottish Geographical Society. In 2010 she was awarded the Tivy Education Medal for her "outstanding contribution to geographical education." Anita would have loved to have been an explorer, and always has a suitcase packed.
Melvyn Evans is an illustrator and printmaker whose distinctive artwork has appeared in a range of media, from advertising to children's books.
Dr Cherith Moses is Head of Geography at the University of Sussex, and is the consultant for the book.