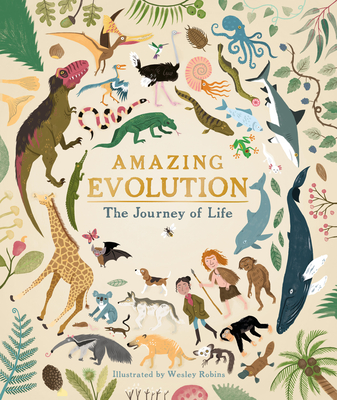 Amazing Evolution (Hardcover)
The Journey of Life
Ivy Kids, 9781782407379, 80pp.
Publication Date: April 9, 2019
* Individual store prices may vary.
Description
Evolution can be a difficult idea to wrap our brains around: it deals with random, unlikely events, combined with vast lengths of time too enormous to comprehend. But the evidence is all around us–in the fossils of long-dead creatures, and in our genes and the relationships between all living beings.
Amazing Evolution shines a light on this incredible process, from the beginnings of life around 3.8 billion years ago, to the millions of different species alive today, including the moon-walking, talking apes with super-powerful brains–human beings!
Filled with clear explanations, beautiful illustrations and fascinating facts about the planet's strangest and most spectacular creatures, Amazing Evolution will keep children (and adults, too!) enthralled for hours.
Delve into the pages and learn what makes a fish a fish, why giraffes have such long necks and how all living things, from cabbages to tigers, are related! Amazing Evolution is the perfect first book about evolution for young readers.
About the Author
Anna Claybourne is a widely published children's non-fiction writer, and the author of Where's Will? (Ivy Kids, 2015). She lives in Edinburgh, Scotland, with her two children.
Wesley Robins is an illustrator and designer, based in London, England. He is the winner of the Macmillan Prize for Children's Book Illustration. Wesley has illustrated numerous books for Ivy Kids, including Great Art in 30 Seconds (2017) and Secrets of Animal Camouflage (2016).
Praise For Amazing Evolution: The Journey of Life…
"Essential for schools learning about evolution, extinction, fossils, Darwin, Anning & Wallace!"
- The Reader Teacher
"Packed with information about some of the world's greatest explorers."
- Michelle, The Book Report
"As entertaining as it is informative, "Amazing Evolution: The Journey of Life" is unreservedly recommended for family, school, and community library Science & Evolution collections."
- Midwest Book Review
"A thoughtfully presented and engagingly written piece of non-fiction on such a huge topic."
- Picture Books Blogger
"I love books like this that are able to make what can be quite complex scientific ideas and theories accessible (and fun!) to young children."
- Toppsta