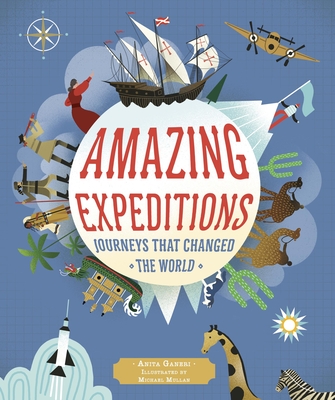 Amazing Expeditions
Journeys That Changed The World
Hardcover

* Individual store prices may vary.
Description
Discover the stories and follow the journeys of more than 20 of the world's most heroic and extraordinary explorers, including Ibn Battuta, Zheng He, Mary Kingsley, Norgay and Hillary, Ellen MacArthur and Neil Armstrong.
 
Throughout history, explorers have bravely ventured out into the unknown to discover new lands, seek treasure, make scientific discoveries or simply achieve something that's never been done before. Amazing Expeditions will take readers on a thrilling voyage over land, sea, sky and space. Some of the journeys were triumphs and others ended in failure and tragedy, but each is a riveting story and a lesson in perseverance and grit that may well inspire a new generation of adventurers. 
 
 
Ivy Kids, 9781782407478, 48pp.
Publication Date: April 9, 2019
About the Author
Anita Ganeri has written many books, including the award-winning Scholastic series Horrible Geography. She lives with her family in West Yorkshire, England. Anita is a Fellow of the Royal Geographical Society, and honorary Fellow of the Royal Scottish Geographical Society. In 2010 she was awarded the Tivy Education Medal for her "outstanding contribution to geographical education." Anita would have loved to have been an explorer, and always has a suitcase packed.
Michael Mullan is an illustrator living in Vermont. He has a BFA in Graphic Design and an MFA in Illustration from the Savannah College of Art and Design. Michael's work stems from his love for printmaking and mid-century design trends as well as his appreciation for simplicity, native, and folk art.