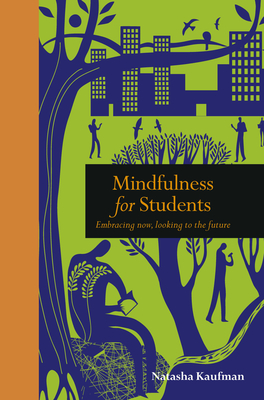 Mindfulness for Students (Hardcover)
Embracing Now, Looking to the Future (Mindfulness series)
Leaping Hare Press, 9781782407676, 144pp.
Publication Date: July 2, 2019
* Individual store prices may vary.
Description
Life can be tough. With so many decisions to make at such a critical time, it's easy to feel weighed down. What's more, there is the pressure to gain good grades, to find a good job, to be a good person. Your mind may feel clogged up with no way to filter your circulating thoughts and pressures. From a young age we are taught the significance of a solid education and a fruitful career, yet with such an emphasis on academic and monetary success we often fail to prioritise a healthy mind and body. It is essential to know how to deal with life's many challenges; Mindfulness for Students will help you.

Through insightful ideas and personal anecdotes, this book will introduce you to the many benefits and applications of mindfulness - from mindful breathing, eating, exercising, sleeping, studying and communicating. There will be opportunities within each chapter to have a go at mindful meditations ranging from three to twenty minutes. There is no right or wrong approach, just what works for you. Mindfulness is a way of being, and this book will help you lay the foundations for a mindful future. Choose to be mindful and live your life in the moment, living fully and wholeheartedly, aware of self and others.
About the Author
Natasha Kaufman is a secondary school English and Drama teacher in a large London school. She also works as a tutor, debating coach and director, giving her a comprehensive understanding of the many pressures and challenges young adults face. Natasha uses meditation within her lessons to help her students cope with their studies and increasing stress levels. Her own journey of mindfulness began ten years ago through yoga during her travels around South East Asia and South America. Natasha has also worked as a journalist in Argentina and the UK, writing for websites, magazines and newspapers.
Praise For Mindfulness for Students: Embracing Now, Looking to the Future (Mindfulness series)…
"English secondary school teacher and debate coach Kaufman shares essential stress-reducing tips in her short, instructive debut guide for incorporating mindfulness practices into high school and college classes." 
- Publisher's Weekly