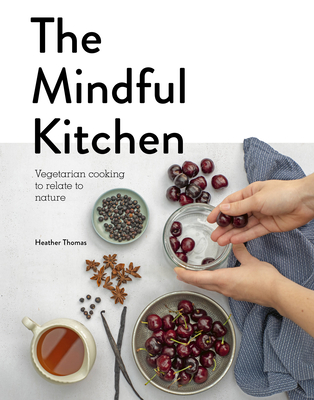 Mindful Kitchen (Hardcover)
Vegetarian Cooking to Relate to Nature
Leaping Hare Press, 9781782409618, 192pp.
Publication Date: October 1, 2019
* Individual store prices may vary.
Description
An environmental foodie on a holistic path, Heather Thomas is mindfully committed to creating positive change, nurturing nature connection, and transforming the way we eat.

Part practical, part meditative, The Mindful Kitchen infuses the everyday with simple nature-related rituals to reinforce thoughts as positive actions, creating focus, awareness and translating intent into lifestyle. Bite-size philosophical notes, meaningful questions, joyful rituals, and an abundant feast of vegetarian recipes are mindfully stirred together in this new-wave cookbook. Offering 100 seasonal recipes, this beautifully illustrated culinary go-to encourages you to make mindful choices through how and what you eat. Add empowering flavors for wellbeing — inspiration, curiosity, and awareness — and this is destined to be a must have in every kitchen library.
 
With fresh takes on old favorites, and new dishes to tickle the taste buds, there's a recipe for every season. The recipes include a mix of fresh takes on family classics and completely fresh ideas, including Leek and Hazelnut Risotto, Spiced Pumpkin and Coconut Soup, Preserved Pizza, Zero Waste Veggie Broth, Rhubarb and Lentil Curry, Oatmeal Honey Bread, and Apple Cake Lasagne.
About the Author
New Yorker Heather Thomas is the founder of The Mindful Kitchen, a sustainable eatery and workshop hub based in Copenhagen, Denmark. She earned her MBA writing a thesis on food waste and concocting a fusion of mindfulness and cookery to help people develop new eco habits in the kitchen. In 2016, The Mindful Kitchen was born to spread the process of how to connect to nature with every bite, working with eco-chef Tom Hunt, Havana Club, Sustain, and The Eden Project. Heather has trained in climate change communications with Al Gore and the Climate Reality Project.