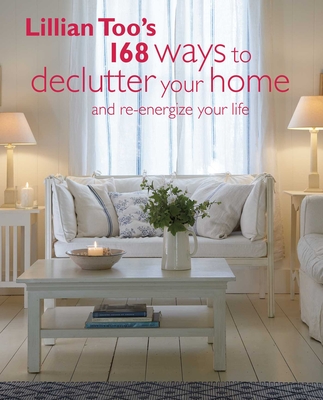 Lillian Too's 168 Ways to Declutter Your Home (Paperback)
And re-energize your life
CICO Books, 9781782490814, 160pp.
Publication Date: March 10, 2016
* Individual store prices may vary.
Description
Clear the clutter and revitalize your living space.

Energy is a precious commodity—the source of vitality, good relationships, and peace of mind. The 168 techniques in this practical guide show how physical clutter is more than just junk—the debris in our home actually creates mental and spiritual blocks to success. When this is cleared, we get the balance back in life, plus a whole range of new opportunities. The book begins with energy basics and practical de-junking suggestions, such as how to clear your desk to create success or rearrange your living room for harmonious relationships, then presents step-by-step cleansing and revitalization rituals to recharge your home's atmosphere. The rituals show how to use crystals, salt, rice grains, herbs, incense, flower petals, fragrant water, and amazing visualization techniques to enhance and protect your environment. Chapters on using mystic symbols, such as geometric yantra designs, and magnifying spiritual energy complete the clutter journey. A section on personalized practices gives inspiring, fast solutions for those bad days: closet-clearing when you feel unattractive, or rearranging your desk when you feel defeated. All rituals and techniques have been personally tried and tested by Lillian Too, and have brought her great personal success.
About the Author
Lillian Too is the world's bestselling feng shui author, and is a TV personality and internationally renowned speaker. Her 80 books have been translated into 30 languages, which have sold millions of copies across the globe. In constant demand as a lecturer and consultant, she has a Harvard MBA and in her corporate days was the first woman in Asia to be appointed CEO of a bank. Lillian now runs her own publishing and investment companies, franchises her internationally successful chain of boutiques, Feng Shui World, and produces her magazine of the same name, which took the feng shui world by storm. In 2004, Lillian hosted her first highly rated television series, The Lillian Too Show. She lives in Kuala Lumpur, Malaysia.