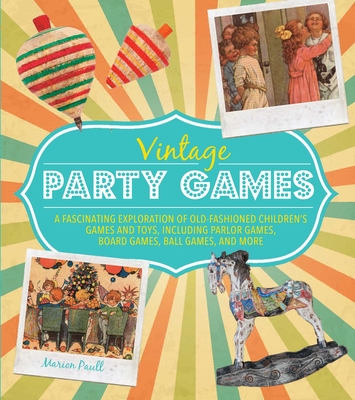 Vintage Party Games (Hardcover)
A fascinating exploration of old-fashioned children
CICO Books, 9781782492580, 144pp.
Publication Date: September 10, 2015
* Individual store prices may vary.
Description
Learn about the origins of perenially popular games and toys, and read about lost classics and nostalgic party traditions in "Vintage Party Games".

Let Marion Paull take you on a rose-tinted journey through the world of the party game, beginning with Playtime Before Computers, when children played with toys such as humming tops, tin noisemakers, rocking horses, and more, many of which are still enjoyed today. In Playing Outside, find out the story behind Hopscotch, Tug o' War, and Capture the Flag, all of which will make you want to run outside and return to your childhood. In Party Time, there are fun facts about Pass the Parcel, Blind Man's Buff, Ring a Ring o'Roses, What's the Time Mr Wolf? and more, and you can also learn the key ingredients of a great party game, one of which is the importance of getting everyone involved. While Parlor Games can be more sedate, these are excellent for exercising your general knowledge and quick thinking, with favorites such as I Spy and Charades, all profiled here. There is also a detailed section on boardgames, so many of which are still played today, such as Snakes and Ladders, Backgammon, and Chinese checkers. You will become a games aficionado with this handy treasure-trove of intriguing facts and stories.
About the Author
Marion Paull is an editor and writer who has worked in publishing for many years, and she is the author of 'Vintage Halloween' for CICO Books. Married to a Cornishman, from the extreme south-west of England, she has a special interest in all things Celtic. The author is based in London.
or
Not Currently Available for Direct Purchase