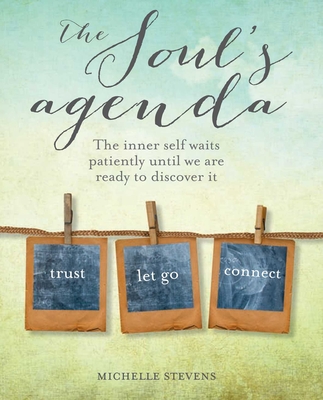 The Soul's Agenda (Paperback)
The inner self waits patiently until we are ready to discover it
CICO Books, 9781782493372, 128pp.
Publication Date: March 10, 2016
* Individual store prices may vary.
Description
This inspiring collection of channeled messages will enlighten, encourage, and empower you.

This inspiring collection of channeled messages will enlighten, encourage, and empower you.

Michelle Stevens has been keenly aware of the presence of her spirit guides in her life since she was eight years old and heard their messages. For 30 years she never told anyone about them, but in 2012, with encouragement from her guides, she created a blog in order to share their guidance, wisdom and support. The Soul's Agenda is a stunningly presented compilation of a selection of the messages she has received and continues to receive every day.

It seems that now, more than ever, so many of us doubt ourselves: we don't believe ourselves to be wise enough, strong enough, smart enough, clever enough, or spiritual enough—when nothing could be further from the truth. We find ourselves searching for meaning in life, wondering what path to take, and asking ourselves "Why am I here?," "What is my purpose?," and "What will make me happy?"

With her guides illuminating the way, Michelle helps us to find answers to all these questions and more. The messages will take you on a practical, and profoundly spiritual and personal, journey that leads to the well of confidence, clarity, strength, wisdom, creativity, fearlessness, love, and joy that already exists in our souls.

With this discovery of your inner self and strength, you will never again feel as if your life is at the mercy of forces outside of your control, and as a result your experience of yourself and of the world around you will be changed forever.
About the Author
Michelle Stevens launched her blog, TheSoulsAgenda.com, in 2012, and in response to reader requests, a weekly Spanish version of the blog was created in 2013. She also does automatic writings and conducts private readings for a small group of select clients. In addition, Michelle is an award-winning copywriter, marketing and brand strategist, and founder of a boutique advertising agency in New York. She is currently in the process of earning a master's degree in Social Psychology. The Soul's Agenda is her first book.
or
Not Currently Available for Direct Purchase