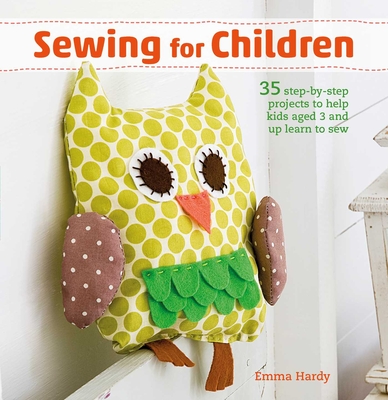 Sewing for Children (Paperback)
35 step-by-step projects to help kids aged 3 and up learn to sew
CICO Books, 9781782494621, 128pp.
Publication Date: June 13, 2017
Other Editions of This Title:
Hardcover (3/11/2010)
* Individual store prices may vary.
Description
Teach your child to sew with this amazing step-by-step guide, filled with 35 fun and easy projects!

Teach your child to sew with this amazing step-by-step guide, filled with 35 fun and easy projects!

Suitable for ages 3 and above, Sewing for Children is full of projects that are specially designed to help children learn to sew. Split into five sections, there are projects for every child and every occasion! Jump into the first chapter, "Animals & Other Creatures", and learn how to make all sorts of wild creatures, such as a Wise Old Owl and Sock Monsters! Then, move on to the second section, "Pretty Playthings", and perfect the art of making Mice & Toadstools, Felt Cupcakes, and all sorts of fashionable items for a Rag Doll. The "Fashion Fun" chapter is filled with stylish designs and know-how so that you can Embroider Jeans, Applique T-Shirts, and even create a Yo-yo Necklace! "Bags, Books & Bedroom Bits 'n' Pieces" provides ample inspiration for bedroom furnishings, including a Tote Bag, a Cardigan Pencil Case, and a gorgeous Applique Cushion. Finally, Emma Hardy will take you through some amazing dressing-up projects in "Dressing Up Time"! Morph into a pirate with a Pirate Hat & Patch, or into a fairy with your very own Fairy Wings! Complete with easy-to-follow photography, children will be guided through each project step-by-step, helping little ones learn and have fun at the same time!
About the Author
Emma Hardy is a keen gardener and an equally keen crafter. Emma's gardening books for CICO include Small Summer Gardens, The Winter Garden, Teeny Tiny Gardening, and Tiny Tabletop Gardens; her craft books for CICO include Learn to Sew, Making Children's Clothes, Quilting in No Time, Hand-Crafted Cards, My First Sewing Machine Book, and My First Rock Painting Book. Married with two daughters, Emma lives in south London, UK.