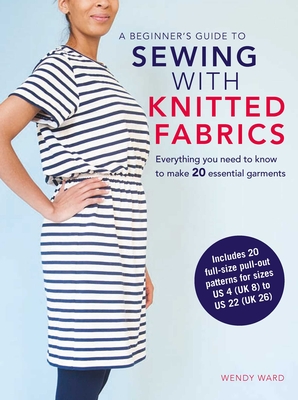 A Beginner's Guide to Sewing with Knitted Fabrics (Paperback)
Everything you need to know to make 20 essential garments
CICO Books, 9781782494683, 128pp.
Publication Date: January 9, 2018
* Individual store prices may vary.
Description
Follow Wendy Ward's tutorials to make a collection of comfortable and stylish garments.

Follow Wendy Ward's tutorials to make a collection of comfortable and stylish garments.

Wendy's style is functional but beautiful basics, and you will learn the skills to make garments out of knitted fabrics that drape beautifully and are a joy to wear. There are t-shirts, wide-leg trousers, lounge trousers, tank tops, cardigans, skirts, and dresses made in versatile fabrics that can be dressed up or down.

Both beginners and more experienced dressmakers often avoid using knitted fabrics, but Wendy will show you how to successfully sew them with just a regular sewing machine. You will learn essential skills with the help of a comprehensive techniques section that includes a guide to different types of knitted fabrics and their uses (including jersey, sweatshirt fabric, boiled wool, and many more), how to prepare them for making clothes, setting up your sewing machine, which needles you need, sewing seams and hems, and using elastic. There are also full-size patterns for every garment included at the back of the book, so you will have all the information you need to start making your own perfect wardrobe!
About the Author
Wendy Ward has worked as a designer in the fashion industry since 2000—for a range of companies from niche retailers to large high street chains, including Matalan and M&S. In 2007 Wendy started teaching dressmaking, pattern cutting, and textiles for adults. She has a degree in Fashion Design, an MA in Design and is a fully qualified teacher. In 2012 Wendy opened MIY Workshop in Brighton and launched the first of her own design sewing patterns. Wendy is also a member of the Society of Designer Craftsmen. She is a regular contributor to Sewing World Magazine and her first book My Fashion Label about fashion design for kids was published in 2014. Her first sewing book for adults The Beginner's Guide to Dressmaking was also published in 2014, and Wendy is the author of three books with CICO Books: A Beginner's Guide to Making Skirts, A Beginner's Guide to Sewing with Knitted Fabrics, and Sewing Basics for Every Body. Wendy lives in Sheffield, UK.