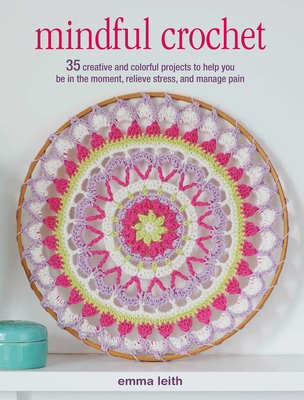 Mindful Crochet (Paperback)
35 creative and colorful projects to help you be in the moment, relieve stress, and manage pain
CICO Books, 9781782496946, 128pp.
Publication Date: April 9, 2019
* Individual store prices may vary.
Description
The 35 patterns in Mindful Crochet include specially designed elements of repetition, color, and texture, which will help you relax, refocus, and unwind.

Anyone who's ever tried to master a new stitch or work out which granny squares should go where on an afghan will appreciate how crochet can totally engage your attention and harness your creativity. Being "in the moment" is an essential part of following a pattern, keeping your yarn on the hook, counting stitches, and remembering which color to use next. Emma Leith shows how these qualities can become a form of mindfulness practice, bringing you peace, calm, and a greater sense of well-being. There are projects you can make for yourself or your home, and others designed to be given as gifts. The satisfaction you'll get from creating these lovely makes and seeing others appreciate them is another important way in which crochet can encourage a positive outlook and bring happiness.
About the Author
Emma Leith has used her Buddhist practice and learned the benefits of mindful crochet from a personal perspective, while undergoing treatment for breast cancer. Her website, Emma Leith Atelier (emmaleith.co.uk), showcases her love of color and texture, and her aim is to spread hope and happiness in all that she does. Whether she is yarnbombing a town center or teaching children, her work is always life-affirming and full of fun. Emma lives near Bath, UK, with her daughter and partner, their two Dachshunds, and Womble the cat.