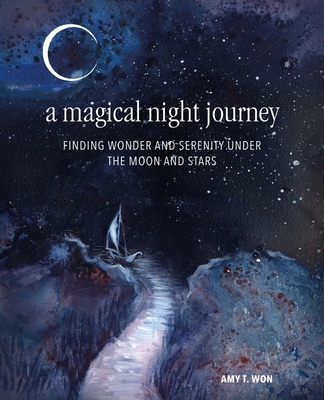 A Magical Night Journey Under the Moon and Stars
Finding wonder and serenity
Hardcover

* Individual store prices may vary.
Description
A beautifully illustrated guidebook to unleash the enchanted explorer in you and help you embark on a magical night journey to find the wonder and wisdom of nature and creativity.

Become the wonder-seeker you truly are as you connect firsthand with nature and creativity. In this magical book, Amy T. Won, artist and enchanted guide, takes you on a personal creative night journey, where you are both explorer and storyteller. Through dreamy watercolor paintings of the enchanting night, you will embark on a gentle voyage of discovery from twilight fairytales and celestial myths to real-life creatures and natural phenomena that come alive under the cloak of darkness. You will learn to set intentions instead of goals, and capture the feeling of wonderment and creative flow, anywhere. Fill-in pages and tangible tools such as the Explorer's Chart invite spontaneity and surprise. Explore to your heart's delight and experience the magic-making. Allow the world around you to whisper in your ears what you wish most to create.
CICO Books, 9781782499251, 144pp.
Publication Date: October 5, 2021
About the Author
Amy T Won is an artist, storyteller, nature lover, and enchantment-seeker. Mindful awareness is fundamental to her art as the bedrock of how she creates and navigates her life and a result of connecting with her work as a wonder-seeker. Experience her intuitive paintings of wonder or join her for magical guided adventures at www.amytwon.com and on Instagram @amytwon. Amy lives in California.