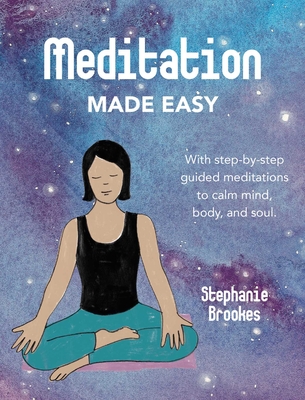 Meditation Made Easy (Hardcover)
With step-by-step guided meditations to calm mind, body, and soul
CICO Books, 9781782499268, 192pp.
Publication Date: September 8, 2020
* Individual store prices may vary.
Description
Use this guide to welcome the calm, soothing practice of meditation into your life.

Trying to find a work/life balance can be exhausting, and we are always looking for ways to release tension and relax. Meditation is the perfect solution, and yet people often worry that to meditate properly they need to sit for hours in a contorted position! Written in a down-to-earth, accessible style, Stephanie Brookes sweeps aside these outdated stereotypes, and shows us how to incorporate simple meditation techniques into our busy, non-stop lives. Included are bespoke meditations for a wide range of situations, including meditations for self-healing, relationships, and for when you are on the go. With the help of Stephanie's engaging and insightful information on the well-being benefits of meditation, you will learn how even a very short meditation can reduce stress, ease tension and set you on the path to inner peace.
About the Author
Stephanie Brookes is an author and TV presenter on modern spirituality. She writes for the online 'Destiny' column for mybliss.co.uk, and is the author of How to be a Spiritual Goddess. Stephanie won the award for Best Contributing Writer for her work at holistic title, Vision Magazine. She is a lifestyle blogger for Huffington Post UK. Stephanie is based in London, UK.