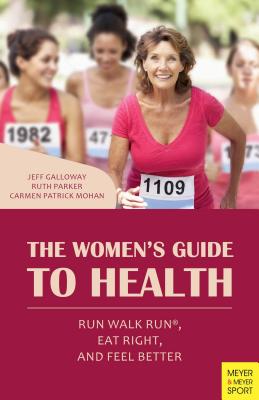 The Women's Guide to Health (Paperback)
Run Walk Run, Eat Right, and Feel Better
Meyer & Meyer Media, 9781782551232, 200pp.
Publication Date: December 1, 2017
* Individual store prices may vary.
Description
After more than 50 years of developing, practicing, evaluating, and teaching his Run Walk Run(R) method, Jeff Galloway is now partnering with two primary care physicians, Ruth M. Parker and Carmen Patrick Mohan, with over 50 years of clinical practice experience. Both physicians use Galloway's Run Walk Run(R) method to achieve their own health goals and regularly prescribe it to patients with common chronic health conditions. The Women's Guide to Health is an action guide that combines Galloway's Run Walk Run(R) programs with the best available medical knowledge for using Run Walk Run(R) and the Mediterranean Diet as key treatment modalities for chronic medical conditions related to excess body weight. It provides sequential action steps for overweight women who would like to begin a graduated exercise program combined with quality meal planning for weight loss. We summarize the evidence that supports our recommendations to achieve health goals. Run Walk Run(R) is then prescribed like a medication with the core components of daily dosage, frequency, indication, and method for building up to the cumulative dosage of 150 minutes of Run Walk Run(R) per week. Diet and nutrition advice is offered in the form of food prescriptions. Throughout the text, the authors integrate best evidence for forming new lifelong habits, encourage journaling as a core weight loss strategy, and use self-reported health numbers to catalyze meaningful conversations with health care providers.