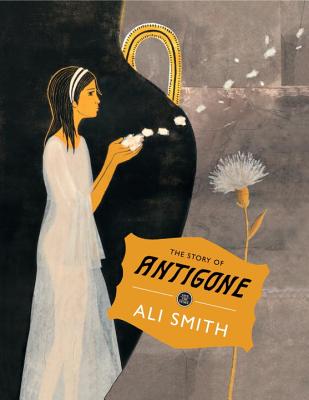 The Story of Antigone (Save the Story #1) (Hardcover)
Pushkin Children's Books, 9781782690160, 104pp.
Publication Date: September 6, 2016
* Individual store prices may vary.
Description
Now there's a girl who understands things, the crow thought.

When two brothers, Eteocles and Polynices, die in a vicious battle over the crown of Thebes, the new ruler, King Creon, decides that Eteocles will be buried as a hero, while Polynices will be left outside as a feast for the dogs and crows.

But the young Antigone, daughter of Oedipus, will defy the cruel tyrant and attempt to give her brother the burial he deserves. This simple act of love and bravery will set in motion a terrible course of events that will reverberate across
the entire kingdom...

Dave Eggers says, of the series: "I couldn't be prouder to be a part of it. Ever since Alessandro conceived this idea I thought it was brilliant. The editions that they've complied have been lushly illustrated and elegantly designed."
About the Author
Ali Smith was born in Inverness, where she was quite good at ice-skating and spent a lot of time on the back of a black Shetland pony called Hodrum. When she was about seven years old she began to write stories and poems. The first poem that she remembers writing was about a girl called Isabel debating with an adder, which was threatening to bite her, about which of them would live the longest (Isabel won).


Laura Paoletti is a very young artist from Macerata, with a degree in painting. She paints, illustrates, photographs, collects birds' feathers. She has always had a mania for drawing, and even as a child she did this on walls, on trousers, on hands and the face. Selected at Bologna in 2010 for the exhibition The Grammar of Figures, Antigone is the first book she has illustrated.
Praise For The Story of Antigone (Save the Story #1)…
"Those desiring a rich encounter with one of the saddest stories of the Hellenic Golden Age, cleverly reimagined—and movingly illustrated by Laura Paoletti—are in for a treat." — Wall Street Journal

"Ali Smith leans lightly on Sophocles in a beautiful version of Antigone." — Observer

"An amazing new series from Pushkin Books in which literary, adult authors retell classics (with terrific illustrations) for a younger generation... includes Ali Smith's lively reawakening of Antigone." — Daily Telegraph

"We love the new, illustrated retellings in the brilliant Save the Story range from Pushkin Press." — TBK Magazine

"Wonderfully tender... a stunning achievement, effortlessly highlighting the difficult conflicts and questions at the heart of the narrative... Paoletti's striking artwork completes the package beautifully." — Teach First