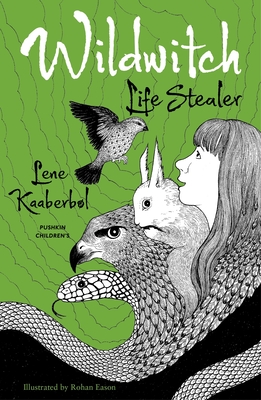 Wildwitch (Paperback)
Life Stealer: Wildwitch: Volume Three
Pushkin Children's Books, 9781782690856, 160pp.
Publication Date: March 14, 2017
* Individual store prices may vary.
Description
From Lene Kaaberbøl, known as the Danish J.K. Rowling: Book three in the Wildwitch series, an acclaimed new children's fantasy series about a young girl who can communicate with and control the natural world.

A sparrow flitting under the forest canopy, a snake slithering on its belly across a carpet of leaves, a hawk swooping down on a squirrel: Clara finds herself drawn into a variety of animal minds and caught up in a deadly dance of predator and prey.

The dramatic and mysterious third part in the Wildwitch story sees Clara discover more about her magical powers and about herself, as an unexpected and frightening new danger emerges from the shadows.
About the Author
Award-winning and highly acclaimed writer of fantasy, Lene Kaaberbøl was born in 1960, grew up in the Danish countryside and had her first book published at the age of 15. Since then she has written more than 30 books for children and young adults. Lene's huge international breakthrough came with The Shamer Chronicles, which is published in more than 25 countries selling over a million copies worldwide.
Praise For Wildwitch: Life Stealer: Wildwitch: Volume Three…
"[A] series of quick-fire fantasy novels." — Telegraph (UK)

"Fast-paced, lively, at times quite scary and thrilling, and still perfectly suitable even for young fantasy fans who may have just about grown out of Sibéal Pounder and Laura Ellen Anderson's Witch Wars but are not quite read for Sally Green's Half Bad." — School Librarian

"One of the freshest I've read in a long time... Eagerly awaited by my Carbonel-loving daughter." - Bookseller

"Classic fantasy adventure... a thrilling story, well told... Young readers will be delighted to hear that there are more adventures to come for Clara." - Lovereading