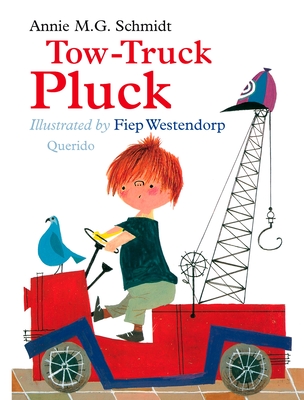 Tow-Truck Pluck (Hardcover)
Pushkin Children's Books, 9781782691129, 200pp.
Publication Date: January 10, 2017
* Individual store prices may vary.
Description
Pluck has a little red tow truck. He drives it all over town looking for a place to live. Then Dolly the pigeon tells him that the tower of the Pill Building is empty. In the Pill Building, Pluck meets Mr. Penn and Zaza the cockroach.

Pluck makes lots more friends and solves all kinds of problems. But the biggest problem is Dove Grove. It used to be a garden with tall trees, but it has been neglected and gone wild. Grown-ups never go there, but the kids from the Pill Building love playing there. But now the Park Superintendent has decided to chop down the trees to make a paved square. Pluck and his friends try to save Dove Grove. But first he has to rescue Longmount from the canal.
About the Author
Annie M.G. Schmidt (1911-95) was regarded as the Queen of Dutch Children's Literature and her books have been an essential part of every Dutch childhood for the last fifty years. She trained as a librarian but burst onto the literary scene whenthe newspaper she was working for discovered her gift for children's verse.. Having won numerous awards during her lifetime, including the1989 Hans Christian Andersen Award, Schmidt is now included in the Canon of Dutch History taught to all Dutch schoolchildren, alongside Spinoza, Anne Frank and Vincent van Gogh.

David Colmer has won several international awards for his translations of Dutch and Flemish novels, poetry and children's books. He has translated much of Annie M.G. Schmidt's work.
Praise For Tow-Truck Pluck…
"Written with understated wit, the story includes such elements of fantasy as talking animals, magical berries, and young Pluck's enviable independence. Colorful, stylized illustrations appear on every double-page spread. Reminiscent of the Provensens' artwork in style, they have a quirky charm that suits the narrative perfectly. This book has a fresh, inviting look. . . imaginative." — Carolyn Phelan, Booklist

"The low-key charm of this story was a treat from start to finish. The droll illustrations of Schmidt's long-time collaborator Fiep Westendorp are a welcome and essential element in that charm... Disarming and sweet, the book also has a genuinely complex worldview, with a strong pro-environmental and anti-authoritarian attitude balanced rather surprisingly by a practical realization that we can't all goof off and play or who would put out fires or bake the bread people need? ... Sly and smart and not so easy to pigeonhole." -- Michael Giltz, BookFilter


or
Not Currently Available for Direct Purchase