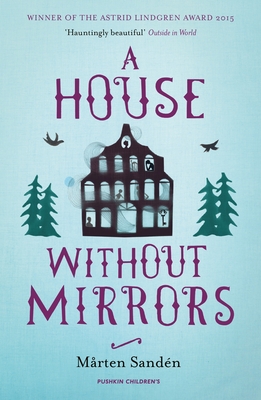 A House Without Mirrors (Paperback)
Pushkin Children's Books, 9781782691211, 192pp.
Publication Date: March 28, 2017
Other Editions of This Title:
Hardcover (12/9/2014)
* Individual store prices may vary.
Description
A moving ghost story that explores the overcoming of loss, and how to move on

Thomasine has spent months living in her great-great-aunt's dusty, dark house with her father, and her aunt, uncle and cousins. While her father's siblings bicker about how much the house must be worth, her distant, elderly aunt is upstairs, dying, and her father has disappeared inside himself, still mourning the death of Thomasine's little brother.

But one day, her youngest cousin makes a discovery: a wardrobe, filled with all the mirrors missing from the big house. And through the mirrors, a different world - one in which you can find not what you most wish for, but perhaps what you most need... A beautiful tale of love, grief and growing up, A House Without Mirrors is an unforgettable adventure into families and the power of love.
About the Author
Mårten Sandén was born in Stockholm in 1962 and spent most of his childhood in the university town of Lund, in southern Sweden. He has been writing, in one way or another, more or less full-time since his early twenties.

Starting out as a professional songwriter for music publishers in Europe and the US, Sanden began writing children's books in the mid-1990s. The Petrini Detectives, a series of mysteries for Middle Readers, was launched in 1999. Since then, he has written around thirty more children's books, ranging from picture books to novels for Young Adults. His work has been translated into Danish, German, Russian and English.

Marten Sanden is a member of The Swedish Academy of Children's Book Writers and The Swedish Crime Writers' Academy.

He lives in Stockholm with his wife and daughter.
Praise For A House Without Mirrors…
"Somber yet hopeful. . . Schulman's black-and-white illustrations capture the haunting sense of mystery." — Donna Scanlon, Booklist

"[The] reader will be completely absorbed, and comforted by the hopeful ending. . . The writing is beautiful and the story stays with you." —  Renée Wheeler, Leominster Public Library, for Youth Services Book Review

"A House Without Mirrors is perhaps one of the most beautiful books I have read this year. . . The translation is well done and manages to bring across the poignancy of the novel. . . The book presents a wonderful opportunity to learn about different cultures and different ways of thinking and being. But at the same time, it also unites people through the emotions that are common to all." -- The Book Wars

"A classic story that has it all." -- Dagens Nyheter