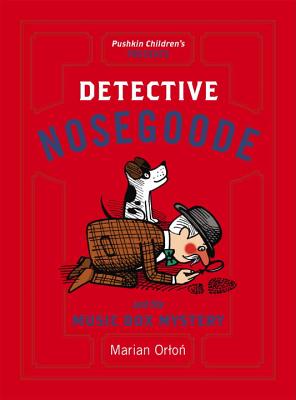 Detective Nosegoode and the Music Box Mystery (Paperback)
Pushkin Children's Books, 9781782691556, 128pp.
Publication Date: February 13, 2018
* Individual store prices may vary.
Description
The first in a series of irresistibly charming, beautifully illustrated children's classics - the adventures of Detective Nosegoode and his talking dog, Cody.

At first glance, Mr Ambrosius Nosegoode seems to be a perfectly ordinary older gentleman. After retiring, he has moved from the big city to a small town, where he spends his days growing radishes, playing the flute and taking walks with his dog, Cody.

But appearances can be deceiving: this unimposing man was once a famous detective, and his dog isn't an ordinary mutt either - he can talk! When a mysterious man with a fake black beard comes to town and a music box goes missing from the workshop of clockmaker Mr Ignatius Blossom, the two friends begin to investigate.
About the Author
Marian Orlon (1932-1990) worked as a teacher, and then a librarian while pursuing an extremely successful career as a children's writer. His subtle sense of humour and exciting plots made the stories in his Detective Nosegoode series bestsellers in Poland. His books have now been translated into six languages. In 1981 he was given Poland's highest literary honour, the Council of Ministers award, for his life's work.

Jerzy Flisak (1930-2008) was a well-known Polish illustrator and designer of film posters and stage sets. He illustrated more than 70 books over his long career.
Praise For Detective Nosegoode and the Music Box Mystery…
​"The quality of the book's binding, cover, and design are uncommonly good for a paperback, and the high-quality pages show off Flisak's distinctive black-and-white drawings very well. Readers who enjoy the quirky characters and well-constructed mysteries can look forward to two more adventures featuring Detective Nosegoode in the coming months." — Booklist

"Recommended for independent readers who might enjoy this dip into another era, to children who like older stories, such as Lois Lenski's Eleanor Estes' Harriet the Spy, or Chitty Chitty Bang Bang." - Youth Services Book Review

"The classic Polish children's book series... It's all woofily exciting." — The Times, Children's Book of the Week