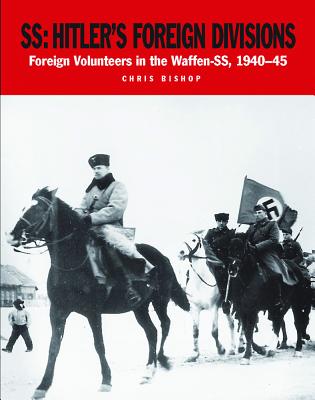 Ss
Hitler's Foreign Divisions: Foreign Volunteers in the Waffen-SS 1940-45 (Military Classics)
Paperback

* Individual store prices may vary.
Other Editions of This Title:
Paperback (3/1/2005)
Paperback (3/1/2002)
Description
The divisions of the Waffen-SS were the elite of Hitler's armies in World War II, but the most fanatical of them were not even German. The book offers a comprehensive examination of every foreign Waffen-SS formation, including well-known divisions such as Wiking, Nord, and Prinz Eugen, notoriously brutal units such as the Kaminski Brigade and the British-recruited Britisches Freikorps. Each unit's history, structure and combat record is described in detail. Despite their non-Germanic background, the Norwegians, Dutch, Danes, Belgians, Latvians, Estonians, Cossacks, Ukrainians and other nationalities - often motivated by an extreme anti-Communist zeal - fought hard on the Eastern Front for the Nazi cause, even when their position was hopeless. Often treated badly by their German commanders, the foreign SS units were not all excellent combat formations, however. Some, like the British and Indian volunteers, were used for propaganda purposes only, while others like the notorious Dirlewanger Brigade, who helped brutally surpress the Warsaw Rising in 1944, were nothing more than murderous criminals in uniform. Other divisions formed in the final months of the war never reached functional strength, and were disbanded before they saw action. SS: Hitler's Foreign Divisions is a definitive history of the 350,000 foreigners who fought for Hitler and Germany in World War II.
Amber Books, 9781782742463, 192pp.
Publication Date: March 1, 2015
About the Author
Chris Bishop worked in publishing for many years and wrote a great number of military history and aviation titles. He died in 2008.
or
Not Currently Available for Direct Purchase