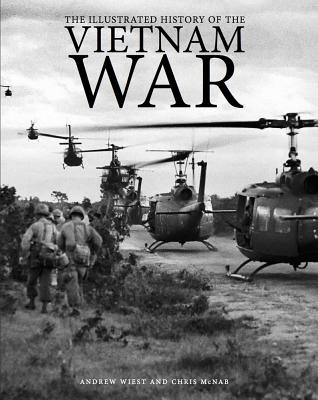 The Illustrated History of the Vietnam War
Hardcover

* Individual store prices may vary.
Description
The struggle for Vietnam in the 1960s, in which the United States attempted to bolster the South against Viet Cong guerrillas backed by the Communist regime in the north, was to shock the world and divide a nation. In the defence of a theory - that if the South fell the whole region would fall to Communism - the United States spent $145,000 million at 1974 prices, her aircraft dropped eight million tons of bombs, and her armed forces suffered 46,370 fatalities (900,000 North Vietnamese and Viet Cong were also killed). The Illustrated History of the Vietnam War is a timely account of the 6,000-day conflict in Southeast Asia. Illustrated throughout with both color and black and white photographs that bring the conflict to life, the lucid, authoritative text includes eye-witness accounts of the battles and incidents of America's undeclared war. The Illustrated History of the Vietnam War provides a graphic and compelling account of one of the most brutal conflicts of modern history.
Amber Books, 9781782742883, 256pp.
Publication Date: June 1, 2015
About the Author
Andrew Wiest is a Professor of History at the University of Southern Mississippi and serves as Director of the Vietnam Studies Program and co-director of the university's Center for the Study of War and Society. He is author of Campaigns of World War II: The Pacific War, and co-author of Passchendaele and the Royal Navy, The Illustrated History of the Vietnam War and Strategy and Tactics: Infantry Warfare. Chris McNab is a wilderness expert, military specialist and author of over 20 survival publications, including How to Survive Anything, Anywhere, Living off the Land, and SAS Training Manual: Endurance Techniques. He holds a PhD from the University of Wales and lives in south Wales, UK.
or
Not Currently Available for Direct Purchase