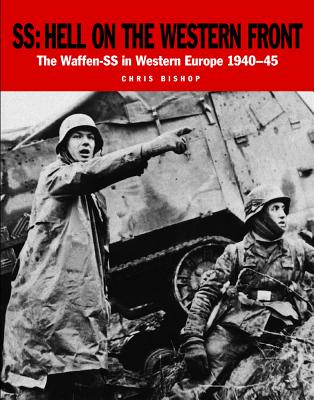 Ss
Hell on the Western Front: The Waffen-SS in Western Europe 1940-45
Paperback

* Individual store prices may vary.
Description
Despite their success during the invasion of Poland in 1939, the Waffen-SS still had something to prove as a fighting unit when they arrived in the west for the attack on the Low Countries in May 1940. SS: Hell on the Western Front describes in vivid detail the exploits of the Waffen-SS in Western Europe from 1940 to 1945. The book begins with the formation of the Waffen-SS and its growth and development into a combat arm. The successes of 1940 are examined, as the SS troopers swept all opposition before them, as is the darker side of the organization, with the first atrocities committed against Allied prisoners. As the preparations for the invasion of the Soviet Union advanced, Hitler was distracted by the crisis in the Balkans, where the Waffen-SS added to their growing reputation by capturing Belgrade and driving Allied troops out of Greece. By 1944, the Waffen-SS were back in France in numbers, in readiness to repel the expected Allied invasion. After the loss of Normandy, the Waffen-SS fought hard at Arnhem and during the Ardennes offensive, winning respect from the Allied troops that faced them. SS: Hell on the Western Front features the actions of such famous Waffen-SS divisions as the Leibstandarte Adolf Hitler, Das Reich, Hitlerjugend and Totenkopf, and provides an insight into how these ideologically motivated units consistently outfought the Allies, even when seriously disadvantaged due to lack of fuel or air support. Illustrated with rare photographs, SS: Hell on the Western Front is a thorough study of the Waffen-SS in the western theatre.
Amber Books, 9781782743149, 192pp.
Publication Date: March 1, 2015
About the Author
Chris Bishop worked in publishing for many years and wrote a great number of military history and aviation titles. He died in 2008.
or
Not Currently Available for Direct Purchase