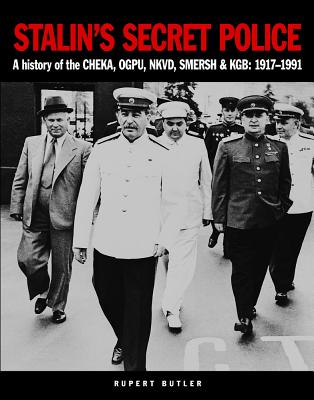 Stalin's Secret Police
A History of the Cheka, Ogpu, Nkvd, Smersh & Kgb: 1917-1991 (Military Classics)
Paperback

* Individual store prices may vary.
Description
The KGB of Cold War renown was the successor to a series of equally infamous and lethal state security agencies that date from the early days of the Russian Revolution: Cheka, OGPU, GUGB, NKVD, NKGB and MVD. Beginning with the Cheka, the organization for combating counter-revolution and sabotage, Stalin's Secret Police examines the Soviet state's treatment of the enemies of Bolshevism, using methods that were so ruthless that the government was moved to abolish the organization 'with expressions of gratitude for heroic work' in 1922. The Cheka's immediate successor was the OGPU (Unified State Political Administration). After taking control of the Communist Party in 1923 and later becoming de facto dictator of the Soviet Union, Stalin used the OGPU to implement mass collectivisation and deportations of the kulaks (wealthy peasants) in the early 1930s. Stalin NKVD's (People's Commissariat of Internal Affairs) carried out the purges of the 1930s, in which millions were arrested and executed or ended their lives in forced- labour camps. During World War II thousands of Cossacks and White Russians were killed when they fell into Soviet hands as the Red Army advanced towards Germany. Following the end of the war, Stalin tightened his grip over the secret police, and the final incarnation of his secret police, the KGB, became an agency for spreading Soviet influence throughout the world. Illustrated with more than 100 black-and-white photographs and expertly written, Stalin's Secret Police is a chilling history of the Soviet secret police from 1917 to the fall of Communism.
Amber Books, 9781782743170, 192pp.
Publication Date: September 1, 2015
About the Author
Rupert Butler is a journalist and author of several books on military history, Germany and Russia in World War II, including 'SS Wiking'.
or
Not Currently Available for Direct Purchase