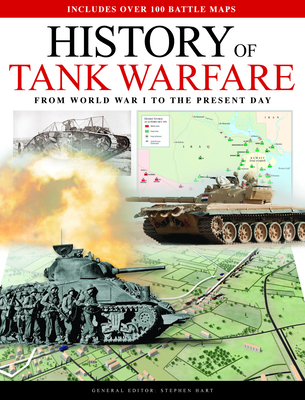 History of Tank Warfare (Hardcover)
From World War I to the Present Day
Amber Books, 9781782747208, 224pp.
Publication Date: February 5, 2019
* Individual store prices may vary.
Description
A highly illustrated and accessible account of tank warfare through history and around the world.

Explore the development of tank warfare, from its first significant use at Cambrai during World War I to major tank battles of World War II, the Indo-Pakistan War, the Arab-Israeli Wars, the Iran-Iraq War, and the Allied invasions of Iraq. Each of the specially commissioned maps highlights a particular aspect of combat, so they vary in shape and size--from isometric to semi-circular and full-page to double-spread--and in outlook, with some maps giving a global perspective while others take a narrow focus. Major battles such as Villers-Bretonneux, Amiens, Kursk, and the Golan Heights are shown in great detail, and all the maps include a key to help readers to understand the events. With extensively researched text telling the stories behind these conflicts concisely and clearly, the History of Tank Warfare is an invaluable reference.
Reissue of Atlas of Tank Warfare
About the Author
Dr. Stephen Hart is a Senior Lecturer with special responsibilities at the Department of War Studies, the Royal Military Academy Sandhurst. He has been published widely on military history topics, particularly British and German operations during WWII.