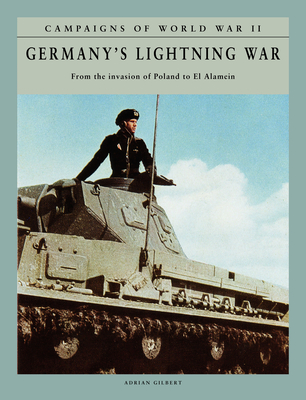 Germany's Lightning War
From the Invasion of Poland to El Alamein (Campaigns of World War II)
Paperback

* Individual store prices may vary.
Description
A look at one of the most devastating and effective military strategies ever devised: Nazi Germany's blitzkrieg. In 1939-42, the Germans ushered in a new era in warfare with their theory of the Blitzkrieg, or Lightning War. The effect was crushing, with the Wehrmacht triumphant in Poland, Norway, the Low Countries, and France, and Rommel winning great victories against the British in Africa. This military history explores the conflict in Europe and North Africa, from the invasion of Poland in September 1939 to the Battle of El Alamein in 1942. Detailed maps explaining the movement of forces complement authoritative text, and illustrations show the uniforms, armored fighting vehicles, aircraft, and ships used in the campaign.
Amber Books, 9781782748953, 256pp.
Publication Date: November 5, 2019
About the Author
Adrian Gilbert is a writer and consultant specializing in military and historical subjects. Among his published works are World War I in Photographs, The Imperial War Museum Book of the Desert War, and Stalk and Kill: The Sniper Experience.
or
Not Currently Available for Direct Purchase