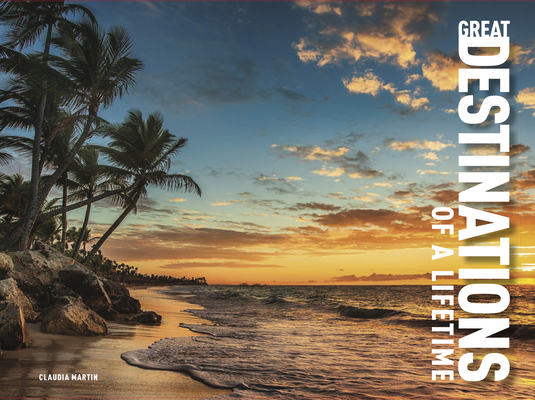 Great Destinations of a Lifetime
Hardcover

* Individual store prices may vary.
Description
to the world's most incredible locales, from the Namib Desert to New Zealand's glaciers, from bizarre rock formations in Turkey to Venice's canals. From California's legendary Death Valley to the lagoons around Bora Bora in French Polynesia, from Niagara Falls to Victoria Falls, and from Norwegian fjords to the Lascaux cave paintings, Great Destinations roams far and wide to find the most outstanding accessible locations around the world. The natural and man-made wonders include both well-known and less explored places, such as the waterfalls at Plitvice in Croatia, the striking rock formations in the marble caves on General Carrera Lake in Chile/Argentina, and the Sandstone Mountains in German Saxony. For every destination, there's geographical and historical background. A feast of color and fact, this book makes up a traveler's bucket list. The destinations include:
Devil's Tower, Wyoming, US * Rocky Mountains, Alberta, Canada * Teotihuacan, Mexico * Nazca Lines, Peru * Iguazu Falls, Argentina/Uruguay * Lake District, Cumbria, England * Sagrada Familia, Barcelona, Catalonia, Spain * Stockholm Archipelago, Sweden * Mada'in Saleh, Saudi Arabia * Dome of the Rock, Jerusalem, Israel * Angkor, Cambodia * Moai Statues, Easter Island

Amber Books, 9781782749875, 224pp.
Publication Date: November 3, 2020
About the Author
Claudia Martin is a travel writer who has contributed to many guidebooks and magazines. She is also the author of books on history, geography, and culture for adults and young people.