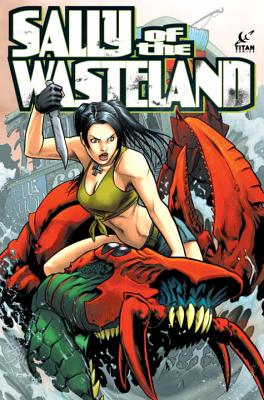 Sally Of The Wasteland (Hardcover)
Titan Comics, 9781782760726, 128pp.
Publication Date: March 31, 2015
* Individual store prices may vary.
Description
Although slightly insane, shotgun-toting Sally is your typical post-apocalyptic young woman, hanging out at the local bayou bar by night and shooting mutant fauna fish by day. But when the boy she loves takes off on a treasure hunt to the forbidden city of New Orleans, Sally decides to go along for the ride. Then it's right out of the frying pan and into the fire as they face packs of deadly Crawgators, flee hunting parties of Mutant Cannibals, and fall in with the warrior women of Alabama - the 'Bamazons!
About the Author
Victor Gischler is a decorated satirical crime and fantasy novelist (Gun Monkey, which has just been optioned for a movie, The Pistol Poets, Shotgun Opera, Go-Go Girls of the Apocalypse, Ink Mage) and celebrated comics writer (The Punisher, Deadpool, Wolverine, Buffy the Vampire Slayer: Spike).
Tazio Bettin began his career as a freelance illustrator by producing spot illustrations for such RPG luminaries as White Wolf Game Studios, Third Eye Games, and Bully Pulpit Games, before progressing to comics at publishers such as Zenescope. Sally of the Wasteland is his first creator-owned work.
Praise For Sally Of The Wasteland…
"If you like your post apocalyptic worlds complete with wild mutant monsters, cannibals and sexual innuendo I'm more than certain you'd like Sally of the Wasteland." - Adventures In Poor Taste

"Pure visceral fun!" - Ain't It Cool News

"The script by X-Men writer Victor Gischler offers a lot of laughs and
some well-played action of the Grindhouse school." - Kabooooom

"A steamy world of sex, danger, and intrigue!" - BLOODY DISGUSTING

"Whedonverse goes to the Grindhouse theater." - FANGIRL NATION

"I found myself going back over the truly great artwork, and laughing
at some of Sally's better one-liners." - Comics Spectrum

"Over the top, fun and enough graphic gratification to keep you on the
edge of the seat." - COMICS FOR SINNERS

"Tazio Bettin's scenery makes Waterworld look laughable." - UNLEASH THE FANBOY

"Profanity, nudity, zombies, and violence with blood and guts. It's
great!" - COMIC CRUSADERS
or
Not Currently Available for Direct Purchase