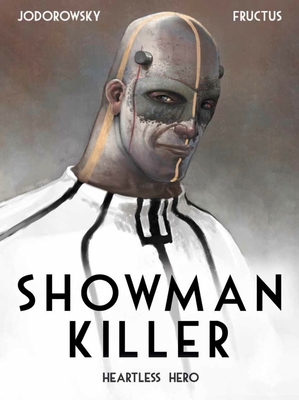 Showman Killer (Hardcover)
Heartless Hero
Titan Comics, 9781782761396, 56pp.
Publication Date: December 29, 2015
* Individual store prices may vary.
Description
Alejandro Jodorowsky is the Chilean film-maker and comic writer whose career has covered everything from mime work to screenwriting, though he is best known as the writer of The Incal, the seminal work of the comic book medium, created in conjunction with the late Moebius. 

Nicolas Fructus is an illustrator who began his career in video games and animation, culminating in his appointment as Art Director for Arxel Tribe Studio. In this capacity, he worked with comic book legends Moebius and Druillet. In 2001, he turned his attention to comics full time, and was widely praised for his exquisite coloring work. He launched Showman Killer with Jodorowsky in 2010.
About the Author
A GENETICALLY ENGINEERED MERCENARY ASSASSIN IN OUTER SPACE
     In space, no one can hear you scream... especially when you're being murdered by the Showman Killer, a genetically engineered assassin devoid of any and all emotion!

     Until, that is, a fateful mission throws him into the path of the mysterious and fascinating Ibis...
Praise For Showman Killer: Heartless Hero…
"A Prophet Of Creativity... One Of The Most Inspiring Artists Of Our Time!" - Kanye West

"A beautifully paced and strikingly visualized opening salvo that makes you eager to get your hands of the continuing story" - Bookgasm

"The painted art by veteran animator and illustrator Fructus depicts expressive and detailed characters, with subtle grays and earth tones punctuated by the occasional splash of violent, angry bright red, and a vibrant visual energy that balances illumination and shade to draw focus across each panel. The soft, organic edges of his characters and technology increase the dreamlike, hallucinatory quality of the script, and a last-act moment of personal evolution for Showman Killer hints at important future developments." - Publisher Weekly 

"Fans of Jodorowsky's cult films (e.g., El Topo) and other comic work will be thrilled to see a new title from him; enthusiasts of sf and European translations will be delighted by this fantastical story, which isn't like much else out there." - Library Journal