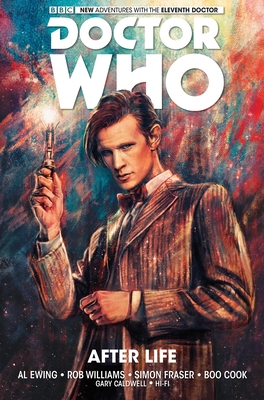 Doctor Who (Hardcover)
The Eleventh Doctor Volume 1- After Life
Titan Comics, 9781782761747, 128pp.
Publication Date: March 31, 2015
Other Editions of This Title:
Paperback (3/29/2016)
Hardcover (12/29/2015)
Paperback (9/6/2016)
Hardcover (8/4/2015)
Hardcover (11/21/2017)
Paperback (7/12/2016)
* Individual store prices may vary.
Description
ALL-NEW ADVENTURES WITH THE ELEVENTH DOCTOR!
 
With a force of personality capable of bending time itself and all the energy of a star's exploding heart, the Doctor blasts into the hollow, tragic life of a woman with so much to offer – and gives her the chance to scream "Geronimo!" at the thrills, colours and terrors of an infinite universe!
Masterful writers Al Ewing (Loki: Agent of Asgard, Mighty Avengers) and Rob Williams (Ordinary, The Royals: Masters of War) team with astounding artists Simon Fraser (Nikolai Dante) and Boo Cook (Elephantmen) to blast the Eleventh Doctor – as played by Matt Smith – into a tantalising new era of time-twisting comics stories! 

Collects Doctor Who: The Eleventh Doctor #1-5.
About the Author
Al Ewing is a British comics writer who has contributed to various 2000 AD titles including Judge Dreddand Strontium Dog. 

Rob Williams is a British comics writer, who has contributed to numerous titles franchises including Wolverine, Judge Dredd, Ghostbusters, and Punisher Max.

Simon Fraser is a British comics artist and writer best known for his work on Nikolai Dante, a series he created with writer Robbie Morrison in 2000 AD.
Praise For Doctor Who: The Eleventh Doctor Volume 1- After Life…
"if you're a fan of the Eleventh Doctor, or just want to read some fun
Who stories, this is your book." -  Fandom Post

"excellent" -  Kasterborous Calling

"9.5 out of 10!" - Nerds Unchained
 
"Feels just like a 45-minute television episode!" - Sci-Fi Online
 
"It's very, very Eleventh Doctor. 5 out of 5!" - Sci Fi Mafia
 
"9 out of 10!" - Those Who Geek
 
"Williams and Ewing have created a great character in Alice" - Pixelated Geek
 
"Feels exactly like an episode of the television series." - Nerdist

"Amazing! It hit all the right notes, and got the Doctor perfect. 9
out of 10!" - Comic Book Cast

"The characterization of the Doctor is spot on." - Comic Book Therapy

"10 out of 10!" - Cult Den

"An effective, fun read with some great characterisaGon and a sense of
adventure. 9 out of 10!" - The Gallifrey Times

"A fantastic Eleventh Doctor adventure. 9 out of 10!" - Newsarama

"A great job creating a companion who can keep up with the Doctor. 10
out of 10!" - Project Fandom

"An good Enjoyable romp." - Flickering Myth

"A fun introduction to both the Eleventh Doctor and his new
companion." - Down The Tubes

"Superbly written. 9 out of 10!" - Florida Geek Scene

"The writng and art style definitely bring the craziness of the
Eleventh Doctor to life in this series." - Awkward Geeks

"A fun, quirky and emotional adventure." - Unleash The Fanboy

"Well-written with great art!" - Comic Bastards

"Compelling art." - Bleeding Cool
 
"Captures the spirit of Mat Smith's version of the Eleventh Doctor." – Retrenders
 
"It's written beautifully." – Sidekickcast
 
"The story shines through and flows from panel to panel." - Geek Syndicate
 
"Spendid job at capturing Mat Smith's expressions." - Geek With Curves
 
"Realistic emotions, but also a good amount of humor." - Comics Worth Reading
 
"Fast paced and non-stop in a way that is very much like the Eleventh Doctor himself." - Pop Cults
 
"The gorgeous artwork is used to tell the story in ingenious and touching ways." – Hypable
 
"A great job at embodying Mat Smith's character." - Science Fiction

"if you're a fan of the Doctor, you'll love this. It feels like a collection of lost episodes." - Manhattan Book Review
or
Not Currently Available for Direct Purchase