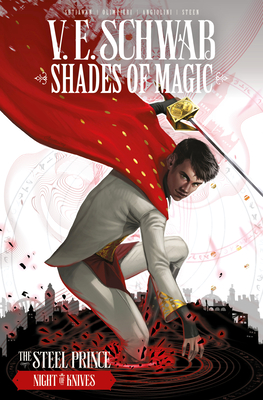 Shades of Magic
The Steel Prince Vol. 2: Night of Knives
Paperback

* Individual store prices may vary.
Other Editions of This Title:
Paperback (11/30/2021)
Paperback (3/5/2019)
Paperback (7/7/2020)
Description
Written by #1 New York Times bestselling author V.E. Schwab and torn from the universe of the Shades of Magic sequence, this all-original comic book adventure continues the story begun in The Steel Prince - perfect for fans of bloody, swashbuckling adventure and gritty fantasy!

The young and arrogant prince Maxim Maresh, having faced the terror of the Pirate Queen, now aims to capture the respect of the combative port town of Verose - by taking the impossible challenges of the Night of Knives... and surviving, where none has survived before!

These are the hidden, secret adventures of Maxim, from long before he became the king of Red London and adoptive father to Kell, the lead of A Darker Shade of Magic!

Collects Shades of Magic #5-8: Night of Knives
Praise For Shades of Magic: The Steel Prince Vol. 2: Night of Knives…

"The Steel Prince comics are a joy to read ... [VE Schwab] makes every line of dialogue sing, every bit of plot feel right at home" - Women Write About Comics

"The plot unfolds at an astonishing rate, and it's tantamount to Schwab's story-telling ability that the reader never, not even for a moment, loses track of the myriad twists and turns that beset the central character ... draws the reader straight into the heart of the tale and allows her characters to take centre stage in a well woven tale of intrigue, adventure, magic and sword-play" - Mass Movement

"A must-read for fans of the series, but any fans of similar YA series, like the Percy Jackson series, can pick up Night of Knives without fear of being lost" - But Why Tho

"I challenge you to find a better fantasy graphic novel series" - The Bookshire


Praise for The Steel Prince:

"A great introduction to a deeply layered fantasy world" - The Pull Box

"Exceptional ... moves at a great pace and the artwork is stellar" - Comic Buzz

"Featuring stellar art and engaging writing ... visually stunning" - Chico Comics Page

"Possibly the best fantasy comic out there right now" - Culturess

"An interesting read" - ComicBook.com

"Explosive and dramatic ... makes the lore accessible and understandable, and the art is absolutely gorgeous" - Geeks World Wide

"Full of lessons, realizations, and vibrant images, The Steel Prince adds a new layer of complexity to the Shades of Magic series" - Paperback Paris

"A masterpiece and a delight to read and admire" - DePepi

"One of fantasy's most successful series in recent years is coming to comics" - The Hollywood Reporter
Titan Comics, 9781782762119, 112pp.
Publication Date: October 15, 2019
About the Author
V. E. Schwab's first adult novel, Vicious, debuted to critical praise and reader accolades. She is the author of the NYT bestselling Shades of Magic series, as well as a number of MG and YA novels, including This Savage Song. She has been called "the heir to Diana Wynne Jones." Her dynamic work has caught the attention of major TV and film studios.

Schwab has a Masters degree in Art History from the University of Edinburgh. She currently lives in Edinburgh.

Budi "Buddy" Setiawan first worked at a huge education books publisher in Pariwara, Indonesia, as an Illustrator. Budi stepped out of his job and began his life making comics in 2005. All his talent didn't go to waste, thanks to Novaris Entertainment's Road Kill Zoo, Buddy became a nominee for the 2007 Russ Manning Most Promising New Comer Award.