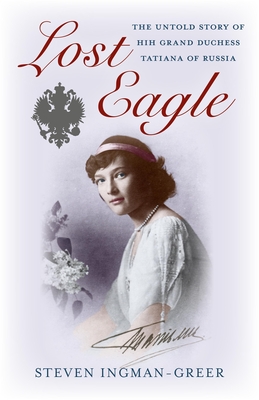 Lost Eagle
The Untold Story of Hih Grand Duchess Tatiana of Russia
Paperback

* Individual store prices may vary.
Description
An epic drama of world-changing events revealed through the visionary consciousness of Tatiana, one of the four daughters of the last Russian Tsar, Nicholas II and his wife Alexandra. This is Tatiana's story, told through her diary: from idyllic childhood in the last royal family of Russia, to brutal imprisonment at the hands of the revolutionaries; from her last-minute escape and secret exile in England - for which there exists actual historical and documentary evidence - to her fulfilment in love and eventual tragic fate as she disappears from history under an assumed name. Within the storyline of history, Tatiana's passionate and impressionistic diary entries are set against the gathering storm of the revolution and the ominous indicators of the Romanov family's impending doom - and against the machinations of the British establishment which decided her fate.
Top Hat Books, 9781782790792, 292pp.
Publication Date: October 7, 2013
About the Author
As a gifted child, Steven Inman-Greer was captivated by the Russia he discovered in Tolstoy s War and Peace and went on to study Russian history and its classical music in depth. After a successful academic scientific career in Chemistry and Engineering he has become an expert on Imperial Russia and its last Tsarist dynasty, the Romanovs. He lives in Glastonbury, UK."
or
Not Currently Available for Direct Purchase