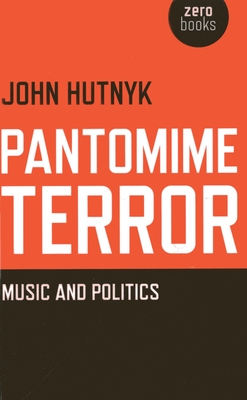 Pantomime Terror
Music and Politics
Paperback

* Individual store prices may vary.
Description
Pantomime is a theatrical form that has come to rule our everyday lives as terror. In the early years of the 21st century, a dissembling political demonology has sometimes placed otherwise merely lyrical musicians in a volatile predicament. The discussion here is of Fun-da-Mental's Aki Nawaz portrayed as a 'suicide rapper', Asian Dub Foundation striking poses from the street in support of youth in Paris and Algiers, and M.I.A., born free fighting immigration crackdown with atrocity video. Along the way, bus bombs, comedy circuits, critical theory, Arabian Nights, Bradley Wiggins, Dinarzade, Karl Marx, Paris boulevards, Molotov, Mao, the Eiffel Tower, reserve armies, lists, Richard Wagner, Samina Malik, Slavoj Zizek, Freudian slips, red-heads, Guantanamo. The book offers some sharp critiques of our contemporary complacency, and the failures of theory as more than ten years of war on terror turns anxiety at home and drone-strike assassinations abroad into a normal everyday. This pantomime is a terror story told over and over to distract from the workings of a despotic power. The need for an adequate (winning) counter-narrative was never more clear.
Zero Books, 9781782792093, 222pp.
Publication Date: February 28, 2014
About the Author
John Hutnyk is Professor in the Centre for Cultural Studies at Goldsmiths College, University of London.
or
Not Currently Available for Direct Purchase