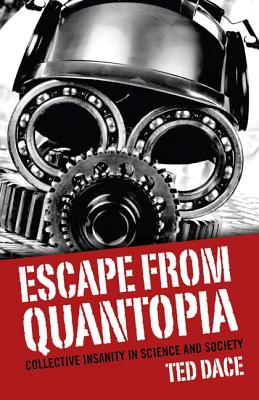 Escape from Quantopia
Collective Insanity in Science and Society
Paperback

* Individual store prices may vary.
Description
An unforgettable trip from the foundations of physical and biological existence to the psycho-social maladies currently undermining human prospects, "Escape from Quantopia" exposes the twin failings of science and capitalism, the double helix of the modern world. Prefigured by the deranged imperative to subsume nature and consciousness to deterministic equations, imperial America is killing the earth in the quest to dominate it. Why do elites pursue policies ultimately harmful even to themselves? How did warfare, whether military or economic, take on a life of its own beyond the reach of reason and compassion? Making the case for insanity at the group level, the author finds the basis of collective memory and mind in the pioneering work of CS Peirce, Henri Bergson, David Bohm, Rupert Sheldrake and Lee Smolin. Whether arising from primordial chemical soup or the unexamined recesses of the human mind, living systems tend to self-perpetuate. In light of the organic underpinnings of contemporary crises, Ted Dace proposes "organic socialism" as the best hope for establishing a new order of thought and life.
John Hunt Publishing, 9781782796107, 252pp.
Publication Date: August 29, 2014
About the Author
Ted Dace is a philosopher and essayist. He presented his time-based theory of mind in the Journal of Consciousness Studies. He lives in Manhattan, Kansas.
or
Not Currently Available for Direct Purchase