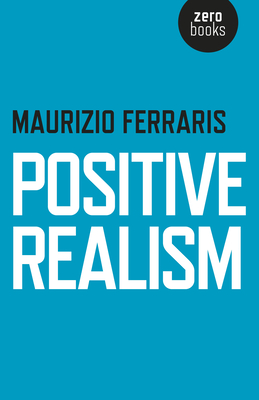 Positive Realism (Paperback)
Zero Books, 9781782798569, 88pp.
Publication Date: December 11, 2015
* Individual store prices may vary.
Description
Positive Realism could be seen as the "sequel" to Maurizio Ferraris' Manifesto of New Realism and Introduction to New Realism. The focus here is the other side of unamendability: a notion, described in his previous books, according to which reality is "unamendable," it cannot be corrected at will. This "resistance" of the real is what ultimately tells us that, in opposition to the claims of post-Kantian philosophy, the world is not a result of our conceptual work: if it were so, our power over reality would be much greater. Now, the often disappointing limits that the real sets against our expectations are also a resource: and this is the key point of the present book. Things exist, and therefore undoubtedly resist us, but in doing so they offer affordances, resources, opportunities. And that the greatest opportunity, which underlies all the other ones, is the fact that we share a world that is far from liquid: on the contrary, it provides the solid ground on which everything rests, starting from our happiness or unhappiness.
About the Author
Maurizio Ferraris is full Professor of Philosophy at the University of Turin, where he is also the Director of the LabOnt (Laboratory for Ontology). He wrote more than forty books that have been translated into several languages. He has attached his name to the theories of Documentality and, mostly, New Realism. See http: //www.maurizioferraris.it/ and http: //en.wikipedia.org/wiki/Maurizio_Ferrar
or
Not Currently Available for Direct Purchase