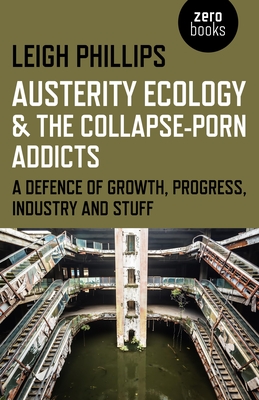 Austerity Ecology & the Collapse-Porn Addicts
A Defence of Growth, Progress, Industry and Stuff
Paperback

* Individual store prices may vary.
Description
Economic growth, progress, industry and, erm, stuff have all come in for a sharp kicking from the green left and beyond in recent years. Everyone from black-hoodied Starbucks window-smashers to farmers' market heirloom-tomato-mongers to Prince Charles himself seem to be embracing 'degrowth' and anti-consumerism, which is nothing less than a form of ecological austerity. Meanwhile, the back-to-the-land ideology and aesthetic of locally-woven organic carrot-pants, pathogen-encrusted compost toilets and civilisational collapse is hegemonic. Yet modernity is not the cause of climate change and the wider biocrisis. It is indeed capitalism that is the source of our environmental woes, but capitalism as a mode of production, not the fuzzy understanding of capitalism of Naomi Klein, Bill McKibben, Derrick Jensen, Paul Kingsnorth and their anarcho-liberal epigones as a sort of globalist corporate malfeasance. In combative and puckish style, science journalist Leigh Phillips marshals evidence from climate science, ecology, paleoanthropology, agronomy, microbiology, psychology, history, the philosophy of mathematics, and heterodox economics to argue that progressives must rediscover their historic, Promethean ambitions and counter this reactionary neo-Malthusian ideology that not only retards human flourishing, but won't save the planet anyway. We want to take over the machine and run it rationally, not turn the machine off.
Zero Books, 9781782799603, 304pp.
Publication Date: October 30, 2015
About the Author
Leigh Phillips is a science and EU affairs journalist who writes for Nature, the Guardian, the New Statesman, and Jacobin.
or
Not Currently Available for Direct Purchase