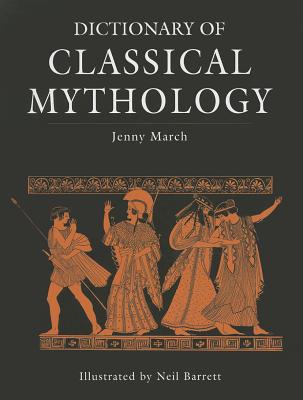 Dictionary of Classical Mythology (Paperback)
Oxbow Books Limited, 9781782976356, 432pp.
Publication Date: May 31, 2014
* Individual store prices may vary.
Description
Jenny March's acclaimed Dictionary of Classical Mythology, first published in 1998 but long out of print, has been extensively revised and expanded including a completely new set of beautiful line-drawing illustrations for this Oxbow edition. It is a comprehensive A - Z guide to Greek and Roman mythology. All major myths, legends and fables are here, including gods and goddesses, heroes and villains, dangerous women, legendary creatures and monsters. Characters such as Achilles and Odysseus have extensive entries, as do epic journeys and heroic quests, like that of Jason and the Argonauts to win the Golden Fleece, all alongside a plethora of information on the creation of the cosmos, the many metamorphoses of gods and humans, and the Trojan War, plus more minor figures - nymphs, seers, kings, rivers, to name but a few.
In this superbly authoritative work the myths are brilliantly retold, along with any major variants, and with extensive translations from ancient authors that give life to the narratives and a sense of the vibrant cultures that shaped the development of classical myth. The 172 illustrations give visual immediacy to the words, by showing how ancient artists perceived their gods and heroes. The impact of myths on ancient art is also explored, as is and their influence in the post-classical arts, emphasising the ongoing inspiration afforded by the ancient myths.
Also included are two maps of the ancient world, a list of the ancient sources and their chronology, the more important genealogies, and an index of recurrent mythical motifs.
Praise for the first edition:
"... the Dictionary of Classical Mythology is exemplary, indeed the best I have consulted ... clearly and engagingly written ...it not only gives reliable answers but also encourages reading on." Simon Goldhill, Times Literary Supplement
"a prodigious, authoritative gazetteer, each entry both typographically and stylistically readable, and if you know more than is contained in these pages then you have no need of it." Nicholas Lezard, Guardian Book of the Week
"Greek myths pervade our own art and literature almost as much as they influenced that of classical times, and this will be an invaluable guide." The Good Book Guide
"... a modern encyclopaedia of myth and legend which is user-friendly in layout, presentation and style ... vivid and readable." Paula James, The Classical Review
"These stories are frequently the spark that ignites a wider interest in the classical world, and March provides a wealth of inflammatory material." Charles Paterson, JACT Review
"This dictionary will still be valuable all through the next century." Sir Hugh Lloyd-Jones
"... vivid, detailed where it matters, yet concise, accurate, no padding, always to the point - it's a joy to read." Herwig Maehler.
or
Not Currently Available for Direct Purchase