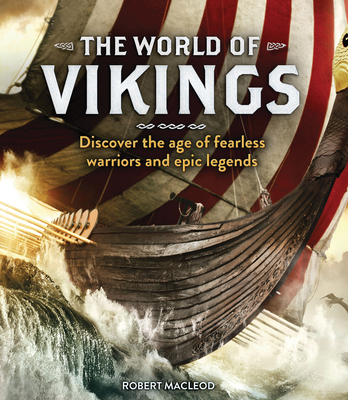 The World of Vikings (Paperback)
Discover the Age of Fearless Warriors and Epic Legends
Carlton Kids, 9781783123964, 80pp.
Publication Date: June 4, 2019
* Individual store prices may vary.
Description
Set sail on a voyage of discovery and learn all about the life and deeds of the Vikings

For 300 years, the Vikings spread terror across Europe, and this enthralling volume brings the notorious Norsemen to axe-wielding life. Through awe-inspiring CGI scenes, intricate illustrations, maps, and a timeline, The World of Vikings animates everything from seafaring and sagas, to raiding and religion, to feasting and fun. It's sure to stir the imagination of every would-be warrior.

New-in-paperback edition of Vikingworld
About the Author
Robert Macleod lives on the remote Scottish coastline and has a passionate interest in the Viking age. His inspiration comes from an old journal belonging to his grandfather Tom Macleod, which documents the discovery of long-forgotten Viking relics. Robert has traced these treasures to a Viking burial site, now fully excavated to reveal fragments of a boat and the remains of a once-great Viking noble.